Nestlé and WWE Team for 'Choose Water' Sweepstakes
Nestlé Waters North America, its Pure Life brand and WWE have joined forces with a campaign that encourages consumers to live a healthy lifestyle and "choose water."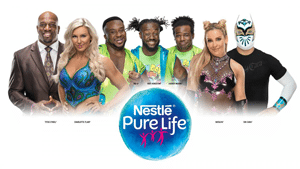 A sweepstakes asked participants to share the reasons why they choose water on WWE's Twitter or Instagram accounts using #ChooseWater and #Sweepstakes or by signing up at www.wwe.com/choosewater. The winner received a trip to SummerSlam on Aug. 19, including tickets to the event, roundtrip airfare and three nights' hotel accommodations.
The "#ChooseWater SummerSlam Sweepstakes" was the main attraction of a broader campaign. The promotion is supported by five co-branded digital videos featuring WWE Superstars that are distributed across WWE's and Nestlé Waters North America's digital and social channels.
---
More on Social Responsibility Campaigns:
---
"WWE has a very passionate and engaged audience and a big part of what their audience loves is their live shows. Forty percent of fans bring a child under age 14 to a show and the idea of creating a sweepstakes for a chance to win tickets to the biggest show of the summer was really a compelling offer to drive that fan engagement," says Tara Carraro, chief corporate affairs officer at Nestlé Waters North America.
Carraro says there are a number of key factors to executing a successful sweepstakes, including a relevant prize, a compelling call to action, ensuring that all applicable rules and regulations are followed and strong tactics to market and amplify the sweepstakes.
"For us, being able to tap into WWE's digital and social reach [860 million global social media followers] was really key in terms of spreading the word and using their talent in a compelling way," she says. Nestlé also used its own digital and social channels to market the sweepstakes.
The videos continue to carry the drink water message and feature WWE superstars Charlotte Flair, Natalya, The New Day, Sin Cara and Titus O'Neil who encourage viewers to show how they #ChooseWater and highlight the benefits of staying hydrated. The stars can be seen drinking Nestlé Pure Life or a glass of water or water from a refillable bottle spreading the message to "drink water, period."
"We are trying to instill healthy habits," Carraro says, citing a 2017 CDC study that between 2011 and 2014 two-thirds of U.S. kids consumed at least one sugary beverage a day and 30 percent consumed two or more a day. "Through a compelling prize and engaging content we can be successful in helping parents change some of those habits."
Earlier this month, parent company Nestlé announced a broader global initiative called Nestlé for Healthier Kids. From leading research to product development, from education to innovative nutrition and lifestyle services, Nestlé says that its ambition is to help 50 million children lead healthier lives by 2030. Learn more here.