Nestlé Waters' CMO Antonio Sciuto on its Marketing Technology Transformation
Nestlé Waters North America has billions of interactions with consumers and works to personalize messages to be more relevant. It watches and listens to consumers on social, responds in real time to build loyalty and has a mission to be more of a partner in people's lives.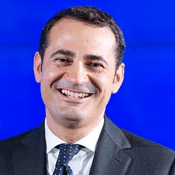 Antonio Sciuto, executive vice president and CMO at Nestlé Waters North America, sat down with Chief Marketer at Connections 2016 to talk about how marketing technology has transformed the marketing of its brands, which include Perrier, Poland Spring and Pellegrino.
He acknowledges that marketers work in the age of the customer and age of disruption. Marketers need to know much more about their customers and be able to harness that data in effective and efficient ways. It's never been more important as the "connected customer" is ever more connected.
Nestlé Waters has just launched a home delivery service. Consumers can order waters via their mobiles and have the product arrive at their doorsteps. Marketing technology plays an important role in understanding customers that would appreciate the service and how to get the word out to them. A few of the tools Nestlé Waters uses to accomplish this are Salesforce's Marketing Cloud, Journey Builder, Service Cloud and Social Studio.
CM: How do you think about managing all the touch points with customers?
SCIUTO: The marketing mission is evolving. It's not just about brand building; it's about fostering community. We have the ability to have a two-way conversation with our consumers; that's very exciting. To understand the role of a brand's touch points in the customer experience is about defining content that will really work for each customer and touch point.
CM: Can you expand on that?
SCIUTO: In the past it was about having a good creative campaign, the brand strategy and essence, the media consumption and going live. The campaign is still there, but it's the stopping point. Now we take the campaign and we amplify the campaign in two ways. First, by engaging proactively in conversation with our consumers and leveraging solutions like Social Studio and Service Cloud and establishing the two-way conversation. Second is to map and implement in the Marketing Cloud automated journeys based on real time behavior. In a nutshell the outcome is an amplification of the campaign by increasing the media effectiveness. It's no longer about eyeballs but about understanding who our customers are and using look-a-like modeling to have much more effective media.
CM: How has marketing technology changed the way you operate internally in the marketing department?
SCIUTO: It's not all about marketing; it's about holistically managing the consumer experience. In the past we didn't connect the dots and think about the consumer experience and technology is making this possible. It's truly transformative. It's about fostering a community.
CM: Has technology taken over the role of creative?
SCIUTO: It's evolving because the behavior of the consumer is evolving. The traditional marketing approach that we all know will remain the same. You will continue to have the brand essence and the brand strategy. What is changing is that technology is allowing us to amplify the messaging with a personalized consumer experience.
CM: Is technology living up to expectations to accurately measure your marketing campaigns?
SCIUTO: The starting point is to clarify what the objectives are and what success looks like. With all this data you can be lost. If you don't have clear objectives you'll measure the ROI in the wrong way. It's very difficult to do this transformation right the first time, the organization needs to adjust. There is a lot of test and learn. You have to be aware of that and to go through the process. Never think that your bar is in the right place because the opportunities could be much higher. We dramatically improved market share online by 57% and digital acquisition by 45%.
CM: What keeps you up at night?
SCIUTO: The fact that we are not moving fast enough. I always think we are on the right path, but I always challenge the speed. Speed and the urgency to move in this new reality is really what doesn't let me sleep.