Move Over Celebs, Consumers Prefer Micro-Influencers
Micro-influencers may have smaller audiences, but they deliver big results when it comes to impacting consumer decisions.
Seventy-two percent of consumers prefer micro-level social media influencers, with two-thirds (68 percent) making purchases based on their posts, an indication that micro-influencers have a large influence over their followers, a new survey from Uproar PR found.
Uproar defines micro-level social media influencers as social media users with less than 100,000 followers. Others have a more narrow definition of those with followings of less than 50,000.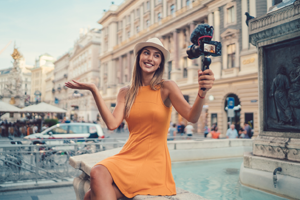 "Third-party recommendations from those you trust—whether its family, friends or the person you want most to emulate on social media—are some of the biggest drivers of consumer purchases," said Jessica Donelson, social media director at Uproar PR. "This survey confirms that it's not about huge follower numbers—it's about the connection influencers make with their audiences. Influencers with those relationships are the ones worth the marketing investment from a brand."
Celebrities were defined as TV and movie stars, musicians, athletes, authors and politicians. Fifty-one percent of respondents' favorite non-celebrity influencers had less than 30,000 followers, with 30 percent having less than 10,000 followers.
"The marketplace and rules for engaging with social media influencers are still evolving. Understanding how this new kind of marketing affects the public relations and marketing stack is essential for businesses looking to get the most out of every marketing dollar," Donelson says.
Influencer marketing ad spend is expected to reach between $5 billion and $10 billion in 2022, according to a report from Business Insider Intelligence.
---
More on Influencers:
---
Micro-influencers have played an important and growing role in the global influencer marketing space as marketers look to narrow targeting for maximum impact.
A 2018 study from SocialPubli.com, looked at how these influencers think about brand collaborations, content creation and overall social media use. Fifty-two percent wanted to be full-time influencers, while 48 percent used their talents as a side gig to supplement another job. The number of brand collaborations per year swings wildly, with 54 percent reporting less than 10 collabs, 25 percent between 10 and 20, and 21 percent reporting more than 20.
Almost half of micro-influencers—47 percent—reported spending more than five hours a day on social media, while 33 percent spent about three-to-five hours and 14 percent less than one hour. The remaining influencers spent between one and three hours online.
Instagram dominates as the social channel of choice for the majority of micro-influencers at 61 percent, followed by Facebook (17 percent), Twitter (12 percent) and Youtube (7 percent).