Millennials Still Favor Email: Survey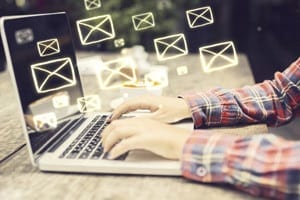 Millennials check email more frequently than other age groups, according to a new survey conducted by Adobe Campaign.
Time spent checking email increased 17% year over year overall, and respondents said they expected email to remain the preferred method of communications at work for the next five years.
Smartphones are the device of choice for Millennials to check email: 90% of those 18-24 said it was the primary device, as did 88% of those ages 25-34.
The results of the survey reflect what Adobe calls an "always on" email culture. Nearly 70% of respondents said they checked email while watching TV and 45% while in the bathroom. This could be because they expect to hear back quickly: Almost half of those surveyed said they expect a response to email within less than an hour at work. Expectations were dramatically higher with older Millennials age 25-34—over a quarter expected a response within minutes.
On weekends, people send 19 work emails and read 29 emails on average. Seventy-nine percent admitted to checking work email on vacation and nearly one-fourth said they did so frequently or constantly. Millennials age 25-34 were the most likely to check email outside of work hours; 50% of Millennials overall said they check their email way too often and need to cut down.
Overall, 36% of respondents said they check their work email in the morning even before they get out of bed. Millennials skewed higher, with 48% of those 18-24 and 50% of those 25-34 reporting this behavior, compared to only 26% of those over age 35. Only 16% overall and 9% of Millennials said they waited to get into the office before checking. A quarter of respondents (including Millennials) said they checked their email regularly at night after work hours.
Texting has impacted how people view their email communications. Nearly 70% said it had changed how they used email, with 37% said it made their emails more concise and 20% said they were now less formal in email. And while emojis were once thought to be too frivolous to use in a professional email, 42% said they had used one in a work email and a quarter said their use of emojis in workplace emails was increasing. The "thumbs up" emoji was cited as the most popular at work, used by 31% of those who had used one in a work email.
Of course, the rise in email usage is too much for some people: 45% of respondents reported attempting a self-imposed "email detox," a break from checking email. Those in the tech sector are the most likely to take a detox, according to the survey. Eighty-two percent said they stuck to their planned detox, which lasted an average of 5.3 days. The majority felt a positive impact from the break, with 37% saying they felt liberated and 34% feeling relaxed.
Email was the preferred method of communication with work colleagues for survey respondents, cited by 38% overall, including 32% of MIllennials age 18-24 and 42% of those age 25-34. Face-to-face came in second overall, cited by 27%, followed by phone (16%), instant messaging (10%) or video chat/conferences (4%) 
The online survey of white-collar workers in the U.S., U.K, Germany and France who own a smart phone was conducted in summer 2016.
Related Articles:
The Challenges of B2B Email Engagement
Email Targeting Fuels MGM Resorts & Focus on the Family