Marketing Explodes in Countdown to the 2018 Olympics
Editor's Note: This is the first is a series of coverage on how marketers are mastering the excitement around the 2018 Winter Olympics—set to begin Feb. 9 in Pyeongchang, South Korea—to engage consumers, create amazing experiences, and, of course, drive sales.
The Olympics may only take place once every two years, but that doesn't mean the U.S. Olympic Committee isn't out there beating the streets year round to keep fans excited about what's to come.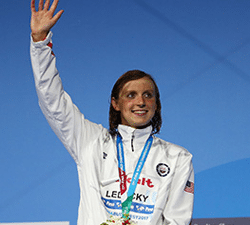 The Committee uses its most valuable asset, the athletes, to market the Olympics and to engage fans throughout the years in between the games.
"For 18 days every two years, the entire world is focused on the Olympic Games," Brian Gordon, senior VP and managing director for marketing and media at USOC told the Wall Street Journal. "The more difficult task is to stay top of mind with those fans once the Games are over and before the next ones begin."
The USOC also involves sponsors who participate in year-round and monthly marketing events. Dow is the presenting sponsor of the annual Team USA Best of the Year awards, which recognizes the outstanding achievements of Team USA athletes, teams and coaches across eight categories, as well as other awards. Dick's Sporting Goods and USG are associate sponsors of the event.
The winners are selected by a public vote through the awards website, and more recently, mobile and social sharing. The site includes real-time leaderboards for the voting and dynamic motion to bring the athletes to life which has dramatically increased site engagement. Votes for Best of the Year jumped 42 percent last year over 2015, The Wall Street Journal reported.
Another sponsor, Fanatics, opened a pop-up shop in a vacant storefront in Rockefeller Center in Manhattan. The shop, in partnership with the USOC, opened just before Christmas and will remain open through the Pyeongchang Games in February. All of USOC's apparel sponsors—Nike, Oakey, Outerstuff and Swatch, (except Polo Ralph Lauren) will be sold. Fanatics also runs the teamusashop.com e-commerce site.
And for those of us not lucky enough to have a front row seat at the games, Intel is offering the next best thing. Through a partnership with NBC, the events will be available through the recently revamped NBC Sports VR app. Thirty events will be delivered through VR, with 18 streamed live.
Related articles: