Marketers are Hiring, But Recruiting Challenges Persist
Twelve percent of marketing and advertising execs plan to do some hiring this year. It may seem like a small percentage but, on the flip side, no executives plan to cut staff.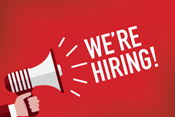 The majority of respondents, 67%, plan to maintain personnel but fill vacant positions. Web design and production jobs top the list of hires in the first half of 2017 (25%), followed by content marketing, 22%, print design/production 20%. Other jobs include customer experience, brand/product management, digital marketing and others.
Finding the right talent, though, is a difficult proposition. Fifty-five percent of execs said its challenging to find talent and that's up 14 points from six months ago. That's prompting execs to bring on more freelancers. Read the report …
Related articles:
4 Tips to Keep Top Creative Talent Happy
6 Hard & Soft Skills to Look for When Hiring Marketing Talent
Marketing Agencies Want Talent Focused on the Big Picture