What Leaders Need to Know about Hiring the "Purpose Driven Generation"
When it comes to careers, Gen Z is known as the "purpose driven generation." They seek out employment at companies that show a dedication to improving society globally and the environment—and can prove it. They want to be involved with companies that make social responsibility a priority and  donate to meaningful charities that make sense for the company's own mission.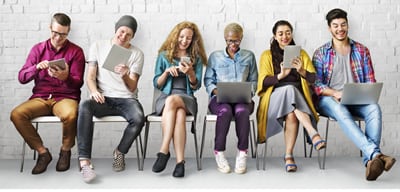 Sure, these job seekers also want flexible schedules, the ability to telecommute and to take their dogs to work, but the bottom line is they want to work for companies that impact real purpose in this world. Gen Z applies these same factors to how they shop, what companies they buy from and which brands to which they will be loyal.
"Now, and in future decades, leaders will be managing individuals for whom meaning matters as much as, or more than, money. The essential factors required to retain this talent will challenge leaders to craft workplaces where purpose, fulfillment and meaning are on equal footing with delivering great results," Alaina Love, chief operating officer and president of Purpose Linked Consulting, wrote on SmartBrief.
Love recommends five areas for leaders to focus on:
1. The "why" behind your business
Give prospective, new and existing employees the reasons behind your company's social responsibility practices and how those practices are executed. Be open and transparent in who you donate to and why. Develop avenues for all employees to  be involved in these efforts if they so choose. "Gen Z cares deeply about making a bigger difference in the world."
2. Open the dialogue
Gen Z has something to say and they want to be heard. Taking instruction from the top down is ok, but they have plenty of ideas and want to share their thoughts and ideas. They want to feel they are part of a team and are contributing to make a difference. Make sure "your recruitment, interview and selection processes allow potential new hires to build an emotional as well as a skills-based connection to the job opportunity and the organization," Love says.
3. Are there clear pathways to career growth?
This generation more than others wants a clear trajectory to advancement and a clear understanding of how to get there. Opportunities for promotion, mentorship, training are all important to Gen Z. And as for those mind-numbing tasks that new employees are often handed, that's a sure way to push Gen Z right out the door.
4. Attention to mental health
"As a generation accustomed to feedback and encouragement, Gen Z'ers thrive when they experience genuine interest in their well-being and success. It should be noted, however, that this generation is experiencing higher levels of anxiety and depression than other generations in the workforce," Love writes, citing school shootings and the intense pressure to get good grades to get into a good college.
5. Don't discount the importance of diversity in the workplace
Gen Z is the most diverse generation yet. And 2017 was the first college graduating class and as these young people look for work, they are also looking for a diverse work force. In fact,  seventy-seven percent of Gen Z say that a company's level of diversity affects their decision to work there.