Kool-Aid Targets Older Kids with Social Blitz
As summer shines on the horizon, Kool-Aid Man is making his case on social media for a new product, Kool-Aid Sparklers.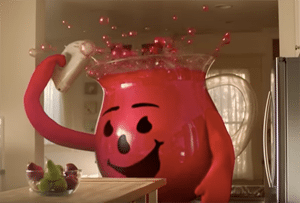 Sparklers turns Kool-Aid in a new direction with a beverage for older kids and teens that combines the traditional flavors of Kool-Aid with bubbles in a sleek can. Teens are a new market segment for the brand and it is making waves in places where teens frequent as a way to modernize the 90-year-old brand mostly thought of as a summertime drink.
The well-known pitcher-shaped character can be seen in a series of 15-second videos where Kool-Aid Man starts bubbling when he hangs out with teens in parks, malls and other places teens hang out. The creative is from McGarryBowen.
---
More on Social Media Marketing:
---

And, it is on Snapchat from May 15 to September 15 with two new interactive lenses. When using the inward-facing camera of a smartphone, users can see virtual bubbles spill out of their mouths. And, using the outward-facing camera overlays a digital animation of a dancing and bubbling Kool-Aid mascot over the user's real surroundings, Mobile Marketer reported. There are also shareable gifs on the Giphy keyboard.

"In one spot, a drone piloted by a teen lands in Kool-Aid Man's pitcher, making bubbles, while another finds him unboxing a hand mixer, then using it to stir up some bubbles in his pitcher" always flashing his signature, "OH YEAH!," the Drum reported.

Mobile Marketer offered some insight into the campaign, saying, "By primarily using Snapchat and Giphy, Kool-Aid could reach a younger audience — one that typically prefers using chat apps over phone calls to talk to friends and family — to boost brand awareness among the next generation of consumers as they begin to gain more purchasing power in the approach to adulthood."

Check out Kool-Aid | Unboxing: