Kimberly-Clark Lets Walmart Shoppers Use Mobile to Win "Cars 2" Merchandise
Paper products brand Kimberly-Clark is sending Walmart shoppers on a mobile-fueled race through the aisles with a promotion that taps into the appeal of Disney Pixar's "Cars 2" animated feature.
The campaign, which will run until the end of July, uses the free CheckPoints check-in smartphone app. Users who download the app and then check in upon entering any U.S. Walmart store will be notified that they can earn points toward Cars 2" promotional items by scanning the on-pack stickers on a wide range of K-C products, including Pull-Ups training pants, Huggies diapers, Kleenex tissues, Viva and Scott paper towels and Cottonelle bathroom tissue.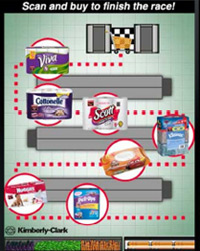 Scanning those on-pack elements earns Walmart shoppers premium rewards points for "Cars 2" premiums including promotional coloring books, die-cast metal character cars, commemorative movie tickets and $10 Visa prepaid cards. The more different participating K-C products a player scans, the more rewards points they earn. Users without the CheckPoints app can also participate in the promotion online by entering product codes at www.kimberly-clark.com/CARS2. Both the mobile app and the Web site offer catalogs on the prizes available.
To add a "racecourse" element to the campaign, the CheckPoints app offers a generic store map that includes icons showing the participating Kimberly brands and where they can be found in a store. Users can plot a course from the front door to the register, and locate and scan qualifying packages to earn points along the way.
While the CheckPoints app normally displays qualifying products in this aisle format, the template in this case suits the "Cars 2" tie-in thematically, and the Kimberly-Clark site specifically brands it as a "race." The format is also especially helpful in a Walmart context, since the chain's emphasis on a "clean look" in its stores limits the use of shelf talkers and other signs.
"Our core demographic is the millennial mom, and she is heavily into mobile," says Joey Hobson, manager of shopper marketing for Kimberly-Clark's baby and childcare division. "Therefore we're trying to get some advance learning in that platform in order to see what we can do to advance our brand in that space. So we saw partnering with CheckPoints as a way to start talking with her both pre-store and at the shelf about our portfolio of products."
Venice CA-based startup CheckPoints claims that the focus on actually getting product into shoppers' hands—if only to scan a code into the app—is what distinguishes it from other location-based or check-in platforms. Users can scan codes and earn CheckPoints rewards toward a catalog of premiums. (Scans done after checking in at Walmarts will also count toward users' CheckPoints values in addition to earning points for the "Cars 2" premiums.)
"Different applications in the mobile/social/local space have their focal points," says president Todd Dipaola, who co-founded CheckPoints with his brother Mark. "Some are about social sharing with friends when you're out bowling. Ours is razor-focused on consumers and the everyday shopping experience."
While this campaign is localized to Walmart retail outlets and an earlier campaign focused on Kmart stores, other CheckPoints campaigns have involved consumer brands wherever they may be available nationwide. The fact that CheckPoints does not require any special equipment installations by retailers allows the platform to be "store-agnostic," Dipaola says.
Before the start of the K-C "Cars 2" campaign in mid-June, the brand got the word out to shoppers about both the movie tie-in and the CheckPoints campaign via ads in FSIs and an email blast to a house list. The K-C brands are also participating in "Cars 2" hot spots inside many Walmart stores, says Hobson. CheckPoints also sent out a notification about the promotion to its million iPhone and Android subscribers and has communicated news of the campaign to its Facebook community.
CheckPoints has partnered on earlier promotions with such brands as Levis, Tyson Foods, Energizer and clothing brand Seventh Generation.