It's Gonna Be a "Damn Good Time" Mountain Dew Says
The Musicland Hotel in Palm Springs, CA is being overtaken by the Mtn Dew Label Series and renamed, what else, the Label Motel. There, Dew's' new line of premium sodas crafted with herbal and citrus bitters will be the stars of the event.
The event takes place April 15-16 during the Coachella Valley Music and Arts Festival, where tens of thousands of people gather. The Label Motel, not affiliated with the festival, is within 45 minutes of all the Coachella action and is free and open to the public for those who RSVP to mountaindew@golin.com.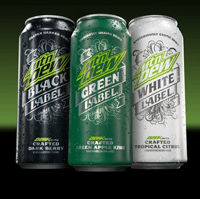 One of the motel rooms will be transformed into a technology haven where people can test the "DEW VR Beat Drop," a virtual reality experience that takes the viewer to a lounge party where some of the guests appear to parachute out from the back of the party via a military plane. In another suite, street artist Bradley Theodore will create an interactive art installation.
And there will be music. An iHeart Radio concert will pop up with a special guest DJ set by Virgil Abloh. Branded merchandise starring The Dew Label Series capsule collection 92264 will be on sale including T-shirts, crop-tops, Hawaiian shirts, beach towels, bandanas and more.
Through it all, visitors will sample the new Mtn Dew Label Series from PepsiCo, including the citrus-flavored Mtn Dew White Label, apple-kiwi flavored Mtn Dew Green Label and Mtn Dew Balck Label, which launched last year and has been one of the most successful product launches in DEW history, driven through word-of-mouth, the company said.
The events at the motel are part of the "Boldly Refined" marketing campaign. Other brand experiences took place last month like grassroots sampling at college and university campuses. Read the article …
In other Dew news, the brand will release another new flavor DEW.S.A in July, just in time for Independence Day celebrations. The name "DEW.S.A." is meant to be a play on words as to sound like "U.S.A.," Dew says. It is a combination of three existing Mountain Dew flavors, those being Code Red, White Out, and Voltage.
Drop in on the Dew lounge party:
Related articles:
Photo Tour: Mountain Dew's Courtside HQ Activation at NBA All-Star Weekend