Identifying Affinities in Second-Party Data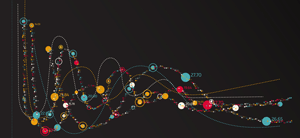 GDPR has befuddled marketers. Third-party data has never been particularly transparent, but when a low CTR rate was the worst that could happen, many would purchase it anyway and hope for the best. But with multi-million dollar fines now possible, transparency has taken on a new urgency. Does the data company have consumer consent to share the data? Can that consent be verified? And even if a syndicated dataset is fully legit, it's likely to be available to anyone with a checkbook.
It's no surprise the second-party data exchanges, in use for several years now, are suddenly exploding (Lotame reported a 500% increase in them). In these deals, two partners, typically a brand and a media company or publisher, exchange their GDPR-compliant first-party data in the hopes of finding synergies between the customer bases, which in turn can be used to design and launch new customer acquisition campaigns. These arrangements allow marketers to reach new customers in a transparent fashion (they know where the ad will be placed) and, of course, in this model, they aren't going head-to-head with competitors as they're not buying commoditized syndicate segments.
Although second-party data campaigns are often high performing, scale is frequently an issue. It's difficult to reach millions of net-new customers, as one can easily do with a programmatic campaign using tons of third-party data. Marketing in a GDPR-compliant world quickly becomes a choice between performance or scale. Or does it? What if marketers identified whole new second-party opportunities to address their scale challenges?
The partners marketers choose for a second-party data exchange tend to be highly related to their sector, e.g. a hotel chain partners with a travel magazine. These are obvious. But what if the hotel chain could uncover non-obvious, or non-endemic opportunities, such as a high-end fashion magazine or fitness publication? Might there be opportunities to achieve scale through multiple strategic partners, and reach potential customers with more relevant messages?
The fact is, people are multidimensional. Someone can be a frequent guest at a hotel chain, but there's more to that person than a love of travel. She may adore Italian fashion and French cooking. She may be a fan of DIY shows and gardening blogs. And, most critically, she probably shares these traits with many other frequent travelers, all of whom can be targeted with messages that tie in these other, outside-the-brand, interests. This is the true opportunity of second-party data exchanges: brands can create highly personalized engagements in much quieter environments.
---
You May Also Enjoy:
---
These shared interests, pursuits and passions are natural human affinities and finding them within a given audience has the potential to change the game. These net-new opportunities offer the scale of programmatic campaigns, but do so in a privacy and GDPR-compliant way. They can also provide the marketing strategy side of the house with the kind of deep insight they need to design highly personalized and relevant campaigns upfront.
The trick, of course, is identifying these affinities at scale, but that's where AI and graph technology are particularly useful. These technologies can identify natural affinities in massive consumer data sets based on common things people like, follow, share, purchase, watch and mention. Social data is a perfect example of this possibility.
Since the dawn of digital advertising, marketers and pundits alike have asserted that consumers benefit from data-driven advertising. With changes to privacy regulations, marketers need to find new compliant, scalable strategies to attract new customers. Being able to continuously unlock non-obvious affinities will address this challenge and improve the advertising experience for the consumer by giving marketers the insight they need to create personalized campaigns and creatives. Who knows, we just may grow to see GDPR as the spark that transformed the industry for the better.