HP and IKEA Commit to Scaling Use of Ocean-Bound Plastics
HP Inc. and IKEA have upped their commitments by joining NextWave Plastics consortium of worldwide businesses committed to scaling the use of ocean-bound plastics by developing the first global network of ocean-bound plastics supply chains.
The addition of HP and IKEA brings the number of companies participating in the initiative to 10.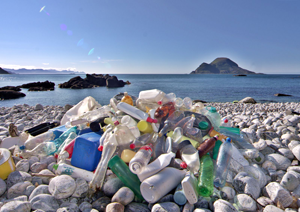 HP and its partners have already built an ocean-bound plastics supply chain. Since September 2016, when HP joined the First Mile Coalition, it has sourced 250 tons of ocean-bound plastics from Haiti—more than 550,000 pounds—and created more than 600 income opportunities for adults in the country. HP upcycles the plastics into Original HP ink cartridges.
"While HP has already demonstrated our commitment to sustainable impact by eliminating ocean-bound plastics and reusing them in our products, we firmly believe in the power of collaboration," says Stuart Pann, HP chief supply chain officer. "We want to scale our collective efforts among industry leaders, work together to address barriers and engage others in the quest for an ocean free from plastic. We have a responsibility to take the critical steps necessary to reduce plastic pollution. Collaboration within and between industries is one of those critical steps."
IKEA has also been moving forward with a sustainability strategy it announced this summer with new commitments that include removing single-use plastic products across its stores by 2020 and designing all IKEA products with the goal to only use renewable and recycled materials by 2030.
---
Other articles you might enjoy:
---
"The consequences of plastic pollution are severe and IKEA is determined to contribute to its solution in a positive and proactive way.," says Lena Pripp-Kovac, sustainability manager, Inter IKEA Group. "Our goal is to make ocean-bound plastic a commodity for the future, and we want to take initiatives to prevent plastic from ending up in the ocean in the first place. We hope this membership will lead to new learnings and new innovations and that we can inspire other companies to follow."
In 2017, as part of a United Nations commitment to Sustainable Development Goal 14, Dell Technologies and Lonely Whale launched NextWave Plastics. The goal was to build on Dell's ocean-bound plastic program launched in 2016 and bring together a cross-industry consortium of companies to work together to create the first global network of ocean-bound plastics supply chains and scale the use of ocean-bound plastics, NextWave says.
"As we've become more engaged in the challenges facing our oceans, it's become increasingly clear that the solution to marine plastic pollution requires bold innovation and open collaboration," said Kevin Brown, chief supply chain officer at Dell Technologies. "No company can solve this issue alone."
In addition to HP, Dell and Ikea, NextWave member companies include Bureo, General Motors, Herman Miller, Humanscale, Interface and Trek Bicycle.