How to Beat the High Cost of Digital Advertising for Black Friday and Beyond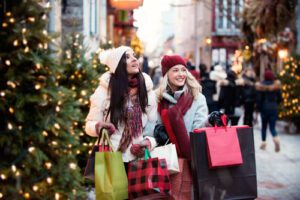 From Black Friday through New Year's, advertisers vie for premium inventory across video and display. Everyone wants to grab consumer attention with eye-catching ads across screens, but there's not always enough inventory to satisfy the demand. There is a ceiling to that premium inventory, and of course, prices go up during the holidays–it's that old supply-and-demand pickle.
Beyond that struggle for consumer attention, there's something else going on behind the scenes. There are essentially two auctions to win this coveted inventory. First, depending on which platform you choose, your ads are competing with every advertiser who also works with that platform. Second, if you "win" that first battle, you then have to enter another auction between your platform, and every other platform, bidding for inventory.
With the stakes so high and inventory so hard-won, brands that want to stay ahead need to look beyond digital if they want to make an impact and reach Black Friday shoppers. There are smarter ways to use at least some of that holiday budget (beyond overpriced impressions). Apart from the competition for eyeballs, consumers really do get fatigued after having so many ads flash in their faces.
---
You May Also Enjoy:
---
Shoppers are tired of banners, but they do like some marketing
A recent independent study revealed that while shoppers universally dislike banner advertising, they have a love/hate relationship with email, social and search ads–all mainstays of the digital marketing toolkit. While marketers shouldn't make snap decisions that exclude any channel entirely, they may want to shift budgets to channels that are more palatable to shoppers. There were two among the survey results that most consumers liked, and that can be effective in supporting other digital channels.
TV and Video: For marketers who have the budget, TV and video ads are a good option to pursue. Video is the ultimate storytelling medium, after all. Despite the rumours that traditional TV has succumbed to cord-cutters, older audiences still prefer linear TV. So, to reach audiences from Gen X to boomers and beyond, TV is still a solid way to go. Costly traditional TV advertising may be out of reach for some brands, but digital video ads may be more affordable. Additionally, these digital ads can leverage data in a way that old-school TV can't. It's video can be personalized, offer more relevant calls-to-action for each audience, and measure results.
Direct Mail and Catalogs: Direct mail seem seriously old-school, but the statistics show that nearly half of direct mail recipients take action. That's a far better response rate than a single-digit click through. Direct mail today is even more effective because it can be fueled by data, just like programmatic advertising. That means direct mail pieces can be tailored to the recipient.. Moreover, digital printing means that marketers don't have to commit to giant runs of brochures or other mailers. Pieces can be printed and posted, on demand and as needed.
Making more of your budget can go beyond channels and media
Here's a novel way to stretch your budget while keeping shoppers happy: Start campaigns later in the season. Every year, marketers begin their holiday marketing earlier and earlier, until Black Friday offers seem to butt right up to back-to-school sales. While that may make marketing executives happy, consumers really don't want to see your ads before November. It's stressful and anxiety-inducing for them. So, let Halloween end before breaking out the tinsel. It actually makes good financial sense: only a fraction of shoppers—just 17 percent—finish their holiday gift buying before Thanksgiving. More than half will wait until December to pull out the credit cards.
It's also smart to focus some effort in the physical world, since that's where the majority of purchases take place. Yes, consumers will research and compare prices online, but most still go to stores to buy their holiday gifts. Doesn't it make sense to engage with them there? Catalogs and direct mail are a good start—31 percent of consumers find catalogs the most interesting type of mail, and 18 percent of recipients hold on to the coupons they receive so they can redeem them later.
Mail isn't the only way to go, though. Online-only brands like The Sharper Image have made news with pop-up shops and special events. Publications like The Economist and Politico have made an impression with consumers by bringing branded food trucks into major cities like New York and Washington DC. There are creative ways to engage shoppers that are far outside the box.
Online marketing has served retail marketers well for the last two decades, but it's become a crutch. We love the data and we love the measurable results, but the competition for attention is getting fierce – and expensive. Moreover, consumers are no longer happy with the constant barrage of offers and messages on their screens. Listen to what they're saying, and start thinking beyond the screen to engage with customers in the real-world places they actually make their buying decisions. You're bound to see better results!
Tom Barbaro is vice president of enterprise sales at PebblePost.