How Regional Energy Drink Sunshine Reaches Across the Country
It takes a spit-shined marketing strategy to craft a global campaign that can match the peculiarities of local markets; a campaign that plays across the country—even the world—yet can still be relevant to consumers whether they're in Nebraska or New York City.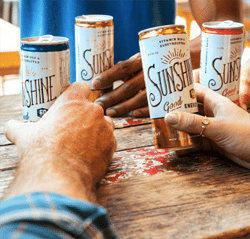 Major brands with big bucks can easily tackle the challenge, but the little guys can too. Just take a look at Sunshine, a super-regional Winston-Salem, NC, start-up energy drink "for the rest of us," says Joe Parrish, chief creative officer and partner at The Variable branding agency. Parrish co-founded Sunshine Beverages to manufacturer and market Sunshine. The beverage targets people that might not want a Monster, but still want an energy boost.
To take its local marketing to scale across the country, the Share the Sunshine program kicked off. Brand reps hand out samples at local musical, arts and culinary events along with a card that suggests sharing the sunshine. For $5, the consumer can send a single can of Sunshine to a friend anywhere in the U.S. via a custom sleeve with a personalized shipping label and custom message. Sampling also takes place around the state each week at 1,200 local retail locations. Sales recently cracked the 1 million can mark.
"As a start up it's hard to scale a sampling program," Parrish says. "It takes lots of investment and time and running around getting people to try your drink. We didn't have the resources or manpower to pull that off so we were trying to rethink sampling. This was a way to get our fan base to be our sampling arm so we could scale."
The Share the Sunshine strategy also solved the distribution problem.
"It's been a great return on our investment because it's allowed people to understand what our brand is about and allowing for people who wouldn't normally be exposed to the brand to be exposed to it," he says.
As a "super unexpected" turn of events, a local musician, Caleb Caudle, was talking about Sunshine while on the road and that the drink always makes him think of home. The Variable team documented his road trip in a video titled "Sunshiners" that was accepted into the local Winston Salem River Run Film Festival.
In fact, balancing the global consistency of a brand and local relevancy of the customer experience is the linchpin of marketing success, this article from CMO.com explains. The author, Arnold Koh, offers four best practices to localize a global customer experience strategy, including:
1. Understanding buyer personas
2. Driving personalization through data analysis
3. Think globally
4. Partner
Related articles: