How Lay's Do Us a Flavor Stays Crisp Year After Year
Each year, Frito-Lay adds a fresh dash of spice to its Do Us a Flavor campaign—now in its fourth year—and while this year's version asked for the typical new potato chip flavor ideas, it also asked entrants for their stories behind their flavor creations.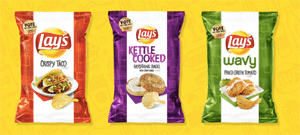 A huge fan base pumped out entries showing "strong engagement," with three finalists rising to the top of the pile: Lay's Wavy Fried Green Tomato, Lay's Crispy Taco and Lay's Kettle Cooked Everything Bagel with Cream Cheese.
The three flavors are sold in a trio-pack at stores nationwide and at the online voting site through Walmart, Subway, Jet.com and Amazon. The public is voting for their favorite through Oct. 8 with the winner taking home the $1 million prize.
Pepsico's Senior Director of Marketing Sarah Guzman spoke with BrandChannel about how it freshened up the Do Us a Flavor: The Pitch campaign. She shares some of the ideas that gave rise to the submissions, how the product development team gets the flavors right and more.
The Do Us a Flavor contest has been held in numerous countries around the world with consumers suggesting million of potato chip flavor ideas. The contest came to the U.S. in 2012.
TV personality, multiplatinum recording artist and current Dancing with the Stars contestant Nick Lachey helped kick off the contest and in 2015, helped surprise the four finalists and award the winner.
Related articles:
Ram Krishnan, Frito-Lay CMO, on Tech, Data and Chip Flavors
Want a Cheetos Meatball? You Better Hurry!
Snap a Bottle of Pepsi and You Just Might End up at the Super Bowl