Old Spaghetti Factory Gets Local With Social
Italian restaurant chain The Old Spaghetti Factory is targeting its Facebook fans with specialized messages and offers based on their location, and that kind of personalization is helping ROI and increasing customer transactions.
The chain has 42 locations nationwide, and it's very important to The Old Spaghetti Factory marketing team that each of those locations feels like a local business within the community.
"Some of our locations are in downtown urban city centers, some are in suburbs and some are in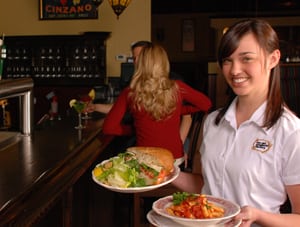 more remote areas. Each one has its own personality, so for us marketing the locations properly has always required a unique approach. We can't do marketing in St. Louis the same way we do in Portland, Newport Beach or Spokane. We have this really wide-ranging map of locations and each area has its own unique feel and personality. We want to market in each area in a way that are the most effective," says The Old Spaghetti Factory director of marketing Ryan Durrett.
Over the past few years, the brand did a lot of homework on how it could find the best technology solution to help it market in these individual areas. The Old Spaghetti Factory wanted to have convenient and efficient access to social media, but with 42 locations marketers didn't want to have 42 windows open in order to manage those locations on social media. They also wanted to have the option to distribute messaging chain-wide.
Durrett teamed with local engagement specialists MomentFeed to target Facebook fans based on their locations via a campaign management tool that allowed for hyper-local advertising of national ad campaigns, but at scale. Marketers wanted to reach its core demographic of families and the moms who typically make family dining decisions.
"The age and gender window that Facebook appeals to appeals to us as well, so that's why we started to build our Facebook presence. The Old Spaghetti Factory has 43 Facebook pages, one page for the brand and one page for each location, so that each one can be present in each market, but we can have a corporate voice, as well. MomentFeed helped us structure our digital presence in a way that would be most efficient while maintaining our corporate identity," Durrett says.
Now, The Old Spaghetti Factory's Facebook campaigns target its Facebook fans through MomentFeed, and the hyper-local messages can vary depending on their locale. Using this tool, The Old Spaghetti Factory received a 30-times return on its $2,000 Facebook advertising investment, leading to an increase of more than 7,100 year-over–year customer transactions.
"Sometimes we send everyone the same messages because we're doing something in all of the markets, whether it's a new menu item or some kind of corporate initiative. The great part is that if our Phoenix location is doing a fund-raiser or partnering with a local charity, that's something that is very valuable for the Phoenix market. So it's allowed us to split that up and send messages locally," Durrett says.
Another example: The Old Spaghetti Factory recently opened a new restaurant in Corvallis, OR, and sent messages about the opening to all of its Facebook fans in the surrounding area.
"We've got four other locations that are within about an hour drive of Corvallis, so that may be relevant to them. We're able to post relevant things about our Corvallis location opening just to those nearby geographical locations, because we can group them together," Durrett says.
So social messaging and offers can focus on fans in California, or just southern California.
"It's like being in a crowded room—we have the option of getting up in front of everyone with a microphone and making a big announcement to the whole group, or the ability to walk right up to an individual person and just talk to them personally. Having the ability to do both of those things is very beneficial to us as a brand," Durrett says.
Looking forward, The Old Spaghetti Factory will continue to look for new ways to leverage this type of technology
"We've got a few things coming in the next year that we hope to activate and enhance how we utilize this technology. It seems every three or four months we're doing something new with this technology," Durrett says.