Generate More Revenue With Sponsorship Promotions: 5 Tips
Traditional sponsorship promotions such as banners, branded merchandise and product showcases might be the industry standard, but that doesn't mean they're necessarily the best options.
In fact, these standby strategies often fail to bring in the revenue businesses want, largely because they ignore opportunities for engaging, meaningful customer interactions. And in an era where consumers want to connect with the brands they do business with, this is important: Seventy percent of consumers that interact with a brand and purchase at an event become repeat customers, according to Event Marketer's EventTrack 2015 survey.
Anyone can buy a banner or slap a logo on some water bottles. To stand out, you have to give people something more — something that won't be lost in the sea of other sponsorship promotions.
To start creating better sponsorships, communicate your goals clearly within your organization. What do you want to achieve? Do you want more engaged attendees or more industry support in general? If your goals aren't specific, measurable, and objective, you'll have trouble knowing whether your sponsorship is effective.
As you set out to establish your goals, keep the overall theme of your sponsorship campaign in mind. If your image is all about being on the bleeding edge of innovation, a one-off folksy campaign will only confuse customers and prevent them from recognizing your brand in the future.
Your sponsorship shouldn't end after the event or initial viewing. You want your audience members to remember their experiences and tie those memories to your brand. Successful sponsorships don't rely on volume — they rely on relevance.
Here's five tips to shed traditional sponsorship practices and create drives revenue:
Be Original
Create something unique or exclusive to your brand to drive the conversation toward your business. Issue a whitepaper or infographic in a place where people have the time to look over it, send a company expert to speak on a public panel, or provide exclusive content through social media.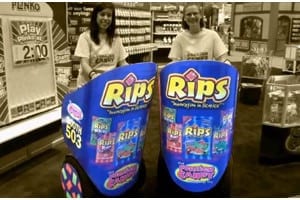 Freebies are always enticing for attendees. The EventTrack 2015 survey found that 81% of consumers are more likely to participate in an event if there are free samples or other giveaways. The Foreign Candy Company took this tactic to another level when it handed out samples while two staff members rode around the booth area in decked-out Segways at the 2013 Sweet & Snacks Expo.
It would be easy for a food vendor to hand out samples and rely on the quality of the product to create a lasting impression, but The Foreign Candy Company went above and beyond so customers who visited its booth remembered the brand and the experience just as much — if not more — than they remembered the flavor.
Engage the Audience
Research shows that people naturally remember things they do much more than things they see, so give your audience the opportunity to do something, either with your company or with other participants, as a part of your promotion.
When Delta Air Lines wanted to connect to more young professionals in its new Innovation Class at the TED conference in Vancouver, it decided to use participants' online information to pair them up with likeminded individuals. As a result, the experience became more than a sponsorship — it turned into a meaningful, personalized relationship for each attendee.
Target Specific Groups
Too many companies try to advertise to everyone, everywhere—resulting in a cluttered campaign that most of the target audience quickly forgets. Getting the brand "out there" isn't enough; your tactics have to inspire attendees to seek you out.
At SXSW, Glad took advantage of the gathering of environmentally conscious people by hiring an artist to create art out of recycled materials live at the conference. Not only did this give participants an opportunity to interact with the exhibit by providing the recycled materials, but it also spoke to the right audience for maximum at-event exposure.
Gather Intelligence
Your sponsorship needs to be organic and always looking toward the next event while remaining present in the current one. To meet this end, you must get into the habit of gathering customer information at every opportunity.
For this year's ABC Kids Expo, companies had the opportunity to sponsor an exclusive margarita bar. It's a simple idea, but this expo took it one step further by requiring a token from the sponsor booth to redeem for a drink. This strategy provided an exclusive live perk while giving businesses ample opportunities to gather customers' information when they visited the sponsor's booth.
Own the Conversation
When people think about your industry, you want them to think about your business specifically. To position yourself as the voice of authority, you must first make your message available through panels, Q&A sessions, and articles in relevant publications.
The Golf Industry Show, which will be hosted in San Diego in 2016, helps attendees position themselves as thought leaders through its "Answers on the Hour" promotion. This interactive promotion gives businesses 30 uninterrupted minutes to be the sole source of information on a particular topic, driving attendees to booths to get more information and meet the people directing the industry conversation.
A successful sponsorship needs more than a catchy logo and a place to put it. To create a memorable brand experience, you have to show your audience members something that makes them want to know more about who you are and what you do. When your audience starts approaching you instead of waiting for you, you'll know your sponsorship strategy is a success.
David Saef is the executive vice president of MarketWorks and strategy at GES.