First Data Focuses on Employee Engagement for Money Network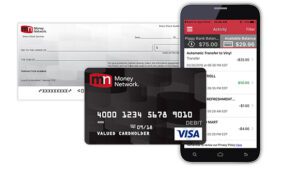 A multichannel content marketing campaign for a large retail customer helped First Data encourage employee use of its Money Network payroll solution.
Money Network allows employers to let employees deposit their salaries onto prepaid cards that can be used as a debit card. The program is an alternative for employees who don't have or don't want a traditional bank account.
The content marketing program has a huge focus on financial literacy, says Euphemia Erikson, vice president and head of product marketing for First Data., noting that the financial services provider's research shows that the majority of the U.S. workforce has less than $25,000 saved and is struggling with expenses.
"Only 40 percent of workers consider themselves financially literate, so large retailers are making financial literacy part of [their outreach]," says Erikson.
Economic stress causes lower productivity, which is why many retailers are considering different payroll options to cater to not only Millennials but Gen Z employees as they enter the workforce, she says.
---
You May Also Enjoy:
---
Working with Arketi Group, First Data created an online quiz to help employees identify what their financial style, so they knew what content to serve them. Five personas were created, including "Check to Check Cycler" (just getting by), "Eager Investor" (investing with an eye on retirement), "Lives for the Moment" (propensity to impulse buy) and "Autopilot Saver" (saving automatically).
The quiz was promoted via social media and email. "We intentionally made it easy-breezy," says Mike Neumeier, principal of Arketi Group. "Close to 60 percent of the people on the platform are Millennials or younger, so we needed to make it conversational and engaging, because we wanted them to follow-through."
Once people completed the survey, they were driven to a microsite with written and video content tailored to their persona. Employees could also sign up for e-newsletters, to keep the education process ongoing. The newsletters include tips for what users can do in the Money Network app, such as create "piggybanks" money can be moved into to save for needs later in the year, like back-to-school time or the holidays.
The ROI of the initiative was judged in several ways. Almost 40,000 new piggybanks were created in the initial phase, signaling that employees were taking advantage of the app, and over 150,000 hits logged into the campaign's landing page.
To hear more from Mike Neumeier and Euphemia Erikson about First Data's initiatives to increase employee engagement, join us on Thursday, Nov. 8 for a new free virtual event, Content First Marketing. Register now!