Filippo Berio Connects With Cooks Via TV
Filippo Berio is testing connected TV ad placements with services such as Hulu and Sling to reach young olive oil buyers.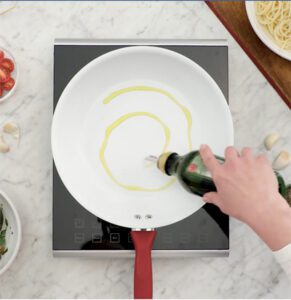 "We have lot of big goals and little budgets," says Meghan Boyd, brand manager for Filippo Berio Olive Oil. "So we have to be really focused on how we spend our money. We focus on what will move the needle to a sale. Brand lift is important but sales lift is the one everyone wants to have their finger on."
The six-week campaign this spring was a test to drive sales with retail partners. The commercials, which reach viewers with tiered subscriptions on the paid platforms, allow the brand to get reach and awareness more efficiently, notes Jo-Ann Abbate, executive director, digital strategy at Colangelo, which works with Berio.
"Then, we can retarget viewers who saw the ads on desktop and mobile," says Abbate. "And we're relying heavily on mobile, interest targeting and geofencing—if we know they are in-store, we can hit them there."
The campaign is using transactional POS data to target people who are already in category and are known buyers of olive oil. Known buyers of Filippo Berio were suppressed in the campaign, which is positioned to drive people to learn more about the brand, rather than just pitch a one-time offer.
The video spots, themed "Just Add Passion," show a recipe being created, but with a twist: the recipe is shown in reverse. The first shot is of the finished dish, and the last shot is olive oil being added to the pan.
"Olive oil is a dish starter, so when it goes backwards, it lands on us," says Boyd. "It allows people see a cooking video in new way, which was impactful."
Links in social media take viewers of the videos back to the website for recipes and more offers.
---
You May Also Enjoy:
---
"We're always trying to figure out how to stand out, because we have so much competition in recipes, but we don't have the budget of Kraft or Betty Crocker," says Abbate. "We're always trying to break through the clutter in social, and give users something of value, so they connect and stop scrolling."
Initial results have been promising, and depending on the results, the campaign may expand in the second half of 2019, says Boyd. "We want to increase awareness beyond the east coast. We're really strong in the northeast, but we want to get individuals past the Mississippi River or down south to be more aware of us. A similar campaign targeting them would be great."