Evaluating Sports Sponsorship Impact: 3 Tips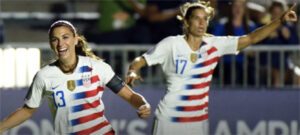 Sports fans have a wealth of choices competing for their attention. Sports marketers face the same decisions when choosing which events to activate with and how. When a brand selects when and where to align with sports' biggest events, they must understand how to value the results accurately.
Sponsorship packages for these events are pan-digital, intending to display logos or "@" mentions across many assets, online and off. When brands extend sponsorship into social media, the metrics can get fuzzy.
Here are three ways to get more from social media campaigns tied into sports or any event sponsorship.
Rethink Sports Sponsorship Value From Social Media
Narrowing the focus towards an estimated value per social post allows us to identify which events and sponsors see the best return on investments, considering both the placement budget and resources to create content. Placing value on individual posts is a more meaningful view of performance across events than comparing top-line numbers like overall value, the engagement rate of social content, or the total number of posts.
Budweiser's sponsorship of the USWNT "Woman of the Match" was the most valuable sponsorship asset by any brand associated with the Women's World Cup, according to analysis from MVPindex. Each match a player was selected and featured in posts on Twitter and Instagram. The "Woman of the Match" campaign returned the most bang for the buck, with each social media post valued at $15,000, despite earning little additional media value for its sponsored posts of the USWNT "Woman of the Match."
Budweiser's branded content's value per post around the Women's World Cup was 630% more than Visa, the top-overall company by earned brand value. Seventy-nine percent of the value for Budweiser was driven by the Instagram posts, which generated 93 percent of the campaign's engagement.
Four sponsors earned over $100K of social brand value during MLB's All-Star Weekend, including league partners MasterCard, Sirius XM, Chevrolet, and T-Mobile. It was Sirius XM, as the title sponsor of the Futures Game, that derived the most value per post as an MLB All-Star Weekend sponsor. Futures Game social media posts from the MLB tagging Sirius XM are valued at nearly $23K per post in brand value. All but one post measured for social value for SiriusXM came from Twitter—that's 15 out of 16—for an estimated total value of $390K.
Align Social Campaigns to Desired Audience Actions
Using the MLB as an example, social engagement for the MLB Futures Game was one-third that of branded content for all of All-Star weekend, at 0.049 percent engagement rate per post compared to 0.149 percent. Given that the MLB and MLB All-Star Game social media playbooks are optimized for Twitter to support the amount of real-time, in-the-moment content and highlights, a low engagement rate is unsurprising—except possibly to those who have to see it on campaign reports.
---
You May Also Enjoy:
---
When designing social media campaigns, marketers must identify the desired actions by audiences who see branded content in social media. Marketers seeking engagement and engagement rates as key performance metrics should avoid a Twitter-first content strategy in favor of Instagram. Those who value impressions and reach may prefer an event that is covered primarily on Twitter, where audiences better tolerate by-the-minute updates.
MLS executed a balance of impressions and engagement rate by using a multi-channel approach during the MLS All-Star Game. Target, the All-Star Skills Challenge presenting sponsor, was credited with value derived from 13K social posts by the MLS. MVPindex analytis shows that while the MLS primarily drove impressions on Twitter (99.7 percent of the 4B impressions served), it was Instagram that garnered 81 percent of engagements for Target.
Leverage Branded Content Beyond the Field of Play
Three years removed from his final game, Alex Rodriguez remains the top-ranked social media influencer in Baseball, according to MVPindex. A-Rod demonstrated his staying star power by teaming up with MasterCard for a video campaign that extended onto his Facebook, Instagram, and Twitter accounts. Activating with Rodriguez resulted in an additional 20.5K engagements for MasterCard at a higher-than-average 0.278 percent engagement rate, from an estimated 1.6M impressions. MasterCard was the only brand to activate with A-Rod during the All-Star game.
At the MLS All-Star Game, it was the opponent, Atletico Madrid who demonstrated its ability off the field as a social media powerhouse. In 29 posts across Instagram, Twitter, and Facebook, Madrid drove over half-a-million engagements and estimated brand value of $1.63M for 11 different brands. Even Major League Soccer saw the impact, with exposure from 14M impressions to Atletico Madrid's global fan base.
Yet it was a team visit to EA Sports HQ in Orlando that created the most value for any brand through Atletico Madrid's social media. From six posts on Instagram and Facebook, EA Sports earned nearly one-third of all brand value ($500M) generated by Madrid during MLS All-Star. Away from the field, events, players, and teams can take part in these moments that drive additional value and opportunity for audiences to engage. Marketers must look outside of the core event to create these experiences and the stories that go along with them.
When marketers demand more from their sports sponsorship and partnership investments and have clear outcomes and specific metrics in mind, everyone wins. Partners understand what and how to report. Audiences benefit from more engaging, thoughtful storytelling. Sponsors evaluate performance on desired outcomes rather than arbitrary metrics.
Brian Foley is CRO of MVPindex.