Email Watch: Nook Scores High With Pop Quiz
Let's be honest: A lot of what turns up in email inboxes is pretty ho-hum. You click through on a message if there's a discount or free shipping on something you have an immediate need for, but otherwise, you delete or ignore a whole heck of a lot of messages because there's a "been there, done that" vibe.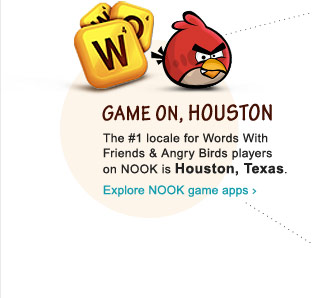 This past weekend, for the first time in ages, an email hit my inbox that made me want to revive our "Emails We Love" headline. The honor goes to Barnes & Noble, and an email for the Nook tablet.
Immediately with the subject line—"Pop Quiz! What City is Home to the Most Angry Bird Players on NOOK?"—B&N grabbed readers' attention. It's a silly question, sure, but it's a silly question that any reader who has ever shot a bird at a pig will want to know the answer to—and that gets them to open the message.
Inside, the reader is invited to explore "The Wide and Wonderful World of Nook," with the answer to the subject line question (Houston, which also has the most Words With Friends players on Nook) and many others. Readers are enticed to scroll through for not only the fun trivia (on the Nook, Brooklyn has the most comic book readers, "I Saw An Ant on the Railroad Track" is the most popular kids book in Chicago and "Crock Pot Cookbook" is the top cookbook in Anchorage, Alaska) but to see if their hometown or favorite city ranks.
Of course, each category offers a link to a portion of the B&N Nook site, where readers can shop the category, or find related content on the Nook Twitter feed or Facebook page.
Overall, this was an engaging email, effectively hitting a wide swath of users in the Nook user niche. Personally, I never would have known there were twice as many Nook books with "Dogs" in the title than "Cats" without this message, a message that, as Nook says, makes one want to "raise the woof."