Dole and Rachael Ray Broaden Reach of Cook-Off Contest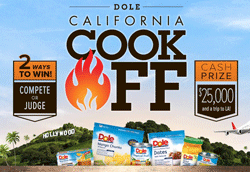 Dole Packaged Foods is in its fifth year running its annual California Cook-Off Contest. It's been successful enough, but this year Dole wants to broaden the reach of this national campaign to greatly increase its exposure, as well as the number of people who enter.
The contest, which began March 18, requires participants to submit an appetizer, small plate, tapas, taster, or healthy portion-sized dish that can be prepared in 60 minutes or less on a gas grill using at least one Dole product and no more than seven additional ingredients. The theme is all around healthy eating in the run up to the summer season. Three finalists will be flown to Los Angeles to compete at a live event to be held at Santa Monica Place in California before a panel of judges that includes celebrity chef Ben Ford. The winner takes home $25,000. The goal is to drive awareness of the versatility of Dole's packaged products in cooking.
Within a week, the contest had already drawn 200 entries, a good start even before the major marketing gets underway.
"One of the reasons it's so important to keep growing is that we want to get people into the Dole brand and get people aware of Dole as a significant destination and provider of healthy recipes," Dave Spare, vice president of marketing and product development for Dole Packaged Foods said.
The most high-profile addition to the marketing program this year happens next week when a segment will air as part of the "Rachael Ray Show" where Rachael and her culinary team will prepare recipes using Dole canned pineapple. Rachael will then announce the California Cook-Off Contest and conduct a short interview with last year's winner who will be sitting in the audience.
"This is a pretty big deal," he said.
A national FSI dropped March 17 carrying coupons for canned fruit products and information about the contest. The live event and contest will also be pumped to Dole's 750,000 Facebook fans who will be encouraged to scan the site to get ideas from recipes posted there, and its 10,000 Twitter followers.
Also in social media, Dole relies on bloggers to help push out information about the contest, as well as recipes that incorporate its packaged foods. Shortly after the contest wraps on May 15, it will attend the BlogHer Food conference in Austin, TX, where it will host an event for hundreds of bloggers to search for one to participate as a guest judge at the Santa Monica Place event. Dole will also tap bloggers it has relationships with to act as sous chefs for the three finalists and to post about the experiences on their blogs.
Even with all the marketing, the grand prize, raised to $25,000, along with three days and four nights in Los Angeles, may be the biggest draw to increase the number of entrants. Last year's winner, Jeanette Wilson from West Virginia took home $10,000 for her winning recipe, the Taste of Dole Island Pork Sliders with Pineapple Jicama Salsa. The meals are judged on three criteria: best use of Dole products (40%), and 30% for both creativity of presentation and flavor and taste.
Dole continues to build its database by capturing opt-ins from entrants who wish to receive additional marketing materials and content, like "The Sunshine Times" newsletter or the "Dole Nutrition News."
At the live event, held for the first time at Santa Monica Place to be closer to the beach, there will be lots of sampling of new Dole packaged products like Squish'ems and Banana Dippers. There will be giveaways of Webber grills and other prizes and coupons for free products. Area posters and social media will help drive local traffic. For the last four years, the event was held at The Grove, where foot traffic is estimated at about 50,000.
"The event itself drives awareness and showcases the versatility of our packaged products in ways that people might not be aware of," Spare said.
Dole uses a variety of metrics to determine its return on investment. Google Analytics tracks site metrics and digital agency Blitz monitors the recipe entries—more than 1,000 last year—Finn Partners, Dole Packaged Foods public relations firm, measures blogger and TV impressions. Dole also looks at additional likes on Facebook, live event attendance, conversations on social media and viral share.
"If you look at the Pillsbury Bake-Off, which is a signature late fall event as consumers move into the holiday, most cooks are aware of it and Pillsbury has created a cooking and recipe destination," Spare said. "For us, we're looking to develop that same top of mind awareness of Dole for healthy eating as people head into the summer."