Delta Faucet Breaks "Most People Showering at Once" World Record
Over the weekend, Delta Faucet, through its partnership with Warrior Dash, set a Guinness World Record for the most people showering simultaneously at a single venue.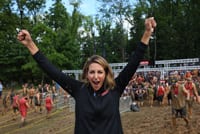 To understand why people would need a shower in the first place, you have to understand what Warrior Dash is. The events are a reinvention of the typical 5K race, however, people are not jogging and running along well paved roads, but rather slogging through a 5K physically demanding obstacle course that traverses woodlands, lakes and mud-caked back roads. Some 5,000 to 10,000 people participate in each of these events.
"When they cross the finish line they are head to toe covered in mud," Brian Quarles, senior vice president and creative director at sports marketing agency rEvolution said.
So this past weekend in Crawfordville, IN, rEvolution constructed high-end shower stations at the finish line where Delta could show off 164 Delta H2Okinetic showerheads that use up to 40% less water than a standard showerhead.
Some 331 people took advantage of showering off, breaking the previous Guinness World Record of 300. Among those participating and helping to break the record was Olympic Gold Medalist Summer Sanders, who is a spokesperson for the campaign. The events were developed as part of Delta's HappiMess initiative to help people embrace mess as evidence of a life well lived.
"We wanted to create an experience that reflected that campaign," Quarles said. "People have a lot of fun running these events and we said let's celebrate that mess and create this shower experience so folks can clean up."
Knowing that racers wouldn't be able to carry cellphones, a photo booth was set up where consumer information was captured and participants left with animated gifs of both before and after they showered.
"It's really adding value to their experience and a great memory they can take away that they probably wouldn't have gotten otherwise," he said.
Dozens of Warrior Dash events take place each year, and rEvolution and Delta Faucet will be at a total of five, but with a smaller footprint of 40 showerheads. The Crawfordville race is the third event with two previous races taking place in Maryland and Illinois, and two coming this summer in New Jersey and Colorado. Warrior Dash events help raise money for St. Jude Children's Research Hospital.
Other agencies involved in the campaign include Leo Burnett Worldwide for creative, MSLGROUP for PR, Spark SMG for media and McMurry/TMG for social media.