Cielo's Go-to-Market Strategy Promotes Sales Marketing Synergy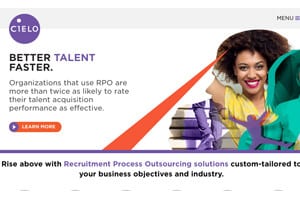 A go-to-market strategy has helped the marketing team at global recruitment outsourcing firm Cielo take a more significant role in generating revenue for the organization.
When Bethany Perkins, director, central marketing, joined Cielo five years ago, marketing was thought of as the "make things pretty" department, she said at B2B LeadsCon 2016. Today, marketing generates 63% of the leads going into the company's sales pipeline.
The company's sales cycle is typically 12 to 15 months, with deals in the $3 million to $5 million range. For marketing to have a seat at the table, "it has to be about revenue," she said. "Marketing has to have a revenue goal. How do you go about that and define it for your organization?
Having a go-to-market team alignment breaks down the silos, she said. Rather than having completely separate sales, marketing, sales enablement and solution design functions, all are tied together under the go-to-market umbrella.
"All goals are aligned 100%," Perkins said. "The revenue goal is single and we each share a portion of that. All of our teams sit together in meetings."
At the core of things, it is semantics, she admitted. It isn't an overall org structure change—the CEO leads everything the organization does—but the change in mindset and accountability makes a huge difference.
To make this strategy works, everyone has to speak a common language. "And that's the language of sales, you just need to accept it," she noted.
It begins with defining what a qualified lead is for the organization, Perkins adds. "There's only one way to define a lead and that's 'Hunger Games' style. Sit down in one room and hash it out."
Marketers should bring data to support their point of view and be prepared for all the exceptions-to-the-rules anecdotes sales will throw at them, she continues. If both sides talk it out, they'll come up with a solution. Then, create templates for passing along leads to sales and other steps along the way—this will help the process immensely.
Monthly meetings with all components of the team also helps identify challenges and efficiencies. And, incentives will inspire all involved to work towards a common goal.
"It's an interesting mentality," said Perkins, noting that new sales reps might be taken aback by the idea that marketing doesn't exist solely to help them. Marketing isn't there just to help sales earn commissions, they're there to help the company hit its revenue numbers, and in the process, earn their own bonuses.
"B2B marketers are more attuned to their role in the sales cycle," she notes. "The partnership between marketing and sales is no longer as strained—the power dynamic is shifting as marketing has more goals, and numbers to hit associated with those goals."
"It makes a big difference," says Perkins. "We work as a single entity. We do training together, and work toward the same results together. It's not sales versus marketing, it's a single team."
At Cielo, sales and marketing have equal seats at the table. "We discuss how everything fits together," she says. "Even if we think something marketing is doing might not directly effect sales, we still get their thoughts."
"We've crossed the gap by creating a culture by keeping everyone in the group informed," Perkins adds, noting that having hard numbers and goals assigned to the team helped.
Related Articles:
5 Ideas for Better Sales Marketing Attribution
Lessons Learned at B2B LeadsCon