Builder Proves the Value of Social Media for Lead Gen
Fiber cement building products isn't exactly an industry that screams of compatibility with social media. But James Hardie Building Products was able to successfully leverage social channels like Facebook and Twitter to generate leads, and all it took was an economic downturn.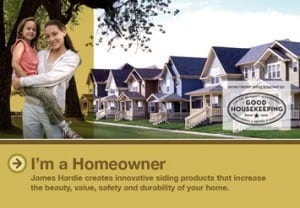 When the housing market took a spill in 2008, James Hardie had to change course. "New construction was slowing, and with that our audience shifted from builders and developers to contractors and homeowners," said Bridget Kulla, digital marketing manager at James Hardie during DMA13 last month.
The company's typical sales cycle started with a homeowner contacting a contractor and having a conversation with them at the kitchen table. "James Hardie had no line of sight into what was happening at that kitchen table," Kulla said. "We had no ability to really influence the homeowner or enable the contractor, so we had very limited ability to impact conversion."
The company responded by creating a direct-to-consumer, door-to-door lead-generation program called the Hardie Ambassador Program, which was launched in two test markets. This team utilized telemarketing, a new email nurture program and social media.
"As part of this effort, we had to really rework our brand, because the look and feel that was working for our trade audience wasn't going to resonate with our new consumer audience," Kulla said. "So we had to have a softer look and feel, and a softer approach, as we dealt with this new consumer audience."
This required a new infrastructure to manage leads the company attracted— technology systems integration, a new measurement and management process, and a lead-collection mobile app, which was built based on political canvassing maps.
Kulla noted that this was a big shift in the company's thinking: "We had to move from a manufacturing mindset to a marketing lead-generation mindset."
On top of the Hardie Ambassador program, the company introduced a number of other new efforts, including a traveling experiential showroom (in the form of a truck and trailer) to interact with homeowners, microsites to support lead-collection efforts, a sweepstakes promotion, new sales tools (e.g., brochures), a revamped referral program, a refreshed lead-nurturing program and social media.
When it came to social media, James Hardie's mantra was "Crawl, Walk, Run." The approach Kulla and her team took was based on Brian Solis' three "Pillars of Influence": reach, resonance and relevance.
Reach was about leveraging the company's mutually beneficial relationships with contractors, who are the ones at that kitchen table; resonance was about having something to say via events, promotions and activities; and relevance was about leveraging conversations happening around James Hardie's products between consumers, which often happened on social channels.
Social Media in Action
Kulla said the company kept contractors in mind as they launched their social media efforts, especially since many are small mom-and-pop shops that don't have much marketing manpower on staff. So James Hardie made sure to create content that these partners could repost on their social channels, which got their brand message out to partners' audiences. James Hardie would also post content that these partners produced on their own Facebook page to provide them with the value of a larger audience.
Some of the most popular types of content on these social channels were contests, before-and-after stories and answers to consumer questions. The former two helped James Hardie build advocacy post-purchase, something it had struggled to do before; the latter fostered the one-to-one relationships James Hardie was after, according to Kulla.
Social media also served as a way to inform people about where their ambassadors were going to be, what they would be doing, etc., to foster a more local connection in those test markets.
The question for the company was whether social media was working and worth the effort. "So far, although we are still in the very early stages, it is pretty successful for James Hardie," Kulla said.
Social media has been the top source of referral traffic to the company's sweepstakes landing page, which acts as an important lead-collection site. Kulla also noted that the number of daily engaged users has doubled since James Hardie invested more time and effort into social media. Also, organic reach to its website has grown by 10% in the past year.
Kulla also shared that referral traffic from Facebook has increased 80% year-over-year, and that referral traffic from Twitter has increased 800% year-over-year.
"So we are seeing some really strong early successes that even people with a manufacturing mindset can see the value in," Kulla said.