Breyers Toppings Launches $1 Million Marketing Campaign
If you're launching a new product into a category as saturated as dessert toppings, you better have a solid marketing campaign in place. That's the thought behind a new line of ice cream toppings from Signature Brands, LLC, marketed under the Breyers name in its first licensing deal with Unilever.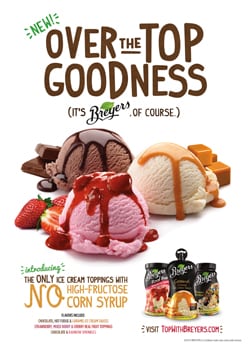 Two points of differentiation—no high fructose corn syrup and a flexible, squeezable, microwaveable pouch—are played heavily in messaging and creative. The $1 million national marketing campaign for the line of eight Breyers Toppings just began rolling into the marketplace in the run up to the Memorial Day weekend as the weather warms and moms are looking for snacks for kids.
"We took a look at the category and there was not a lot of innovation," Mindy Beegle, director of marketing, dessert decorating products for Signature Brands, said. "Customers were hungry for something new and exciting."
Signature Brands and its agency, Eric Mower + Associates, began talking to retailers in the fall and shipments began this spring. The products are being sold by a number of retailers including Kroger, Publics, Food lion, Target and Walmart, which took all eight items in the lineup.
"That was a pretty exciting day," she said.
A national FSI just hit with a $1-off coupon, as did full page and third-page ads in Walmart's "All You" 1.5 million circulation magazine.
"A coupon can mitigate the risk when it comes to trying something new," said Sandy Gingerich, senior partner Eric Mower + Associates, who manages the Buffalo office where the work came out of. "It's not as risky as paying full price for something and then finding out you're not really that happy with it."
Much of the marketing campaign is co-branded by both Breyers and Signature Brands, including on Facebook and Twitter. At Breyers' Facebook page, its 312,000 fans find a dedicated tab that opens up to content about the toppings, links to www.breyerstoppings.com and a downloadable coupon. The page was built in a responsive design to sniff out users devices and resize itself for optimum viewing.
A supporting contest is also pitched at the site where fans can fill out an application to be selected as one of 25 people to be chosen as brand ambassadors.
"We're choosing people that have a vey strong social media presence," Christine Dougherty, management supervisor for the Signature Brands account at Eric Mower + Associates, said.
Video content is under development and will debut in July to keep the momentum going and provide news updates. In stores, large freestanding merchandise displays hold the product and tear off coupons.
Signature Brands' own portfolio includes Cake Mate and Paas Easter egg-dye kits. It also markets products under licenses with Betty Crocker, Disney, Hershey and others.