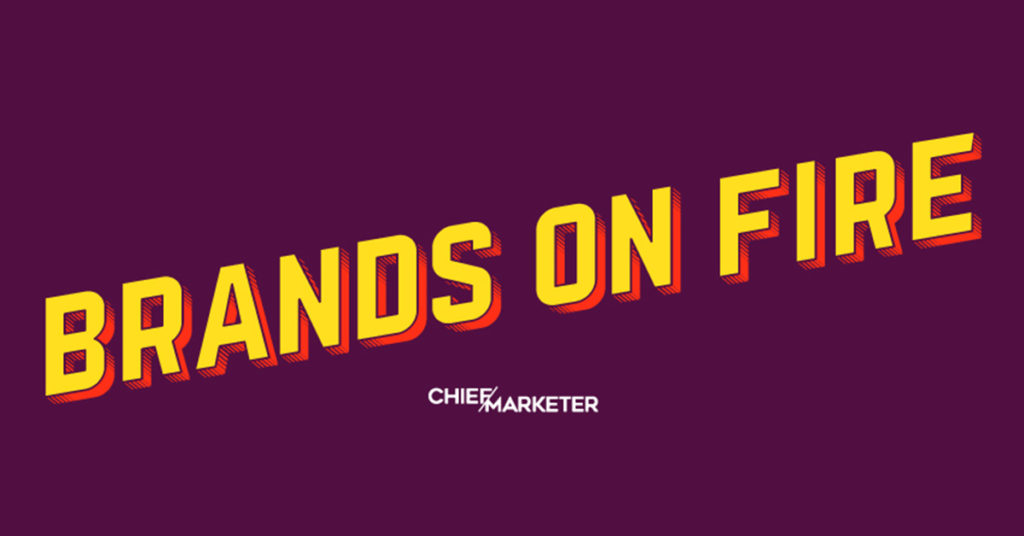 Our monthly analysis of the world's top brands and the marketing moves that are setting them apart.
—
Barbie is pretty agile for a sexagenarian. By adapting to digital gaming, streaming video, apps and other media that could have threatened sales of the brand's old-school, low-tech core products—dolls and their accessories—Barbie has managed to increase its sales. For fiscal 2020, Barbie sales rose 16 percent, outpacing parent company Mattel's 3 percent rise in year-over-year net sales. And for the first quarter of 2021, while overall sales for Mattel were up 47 percent year over year, sales of Barbie products soared 86 percent.
"We've created this amazing ecosystem of play, where all our content and digital complements the play and fuels each other," says Lisa McKnight, Mattel Senior Vice President and Global Head of Barbie and Dolls. "These types of experiences, whether it's the storytelling or the digital gaming, fuels interest in the product and the overall brand."
Take the Barbie DreamHouse, which celebrates its 60th anniversary next year. In 2018, Mattel debuted the animated series "Barbie Dreamhouse Adventures" on Netflix and launched an app of the same name. Last year, thanks in large part to the pandemic, the app exceeded 71 million downloads. But rather than sating kids' appetite for playing decorator, the app and the series piqued it. Now, according to McKnight, Mattel sells a Barbie DreamHouse every minute, and the NPD Group declared the Barbie DreamHouse the best-selling toy of 2020. "We're a timeless brand," McKnight says, "but we're timely as well."
Staying Close to the Consumer
Barbie has been embracing digital in earnest since the mid-2010s. Launched in 2014, the @barbiestyle Instagram account, in which Barbie the influencer poses in one chic ensemble after another, now has more than 2.2 million followers; the more promotional @Barbie account has 1.9 million. The brand's YouTube channel, which debuted six years ago with Barbie's first vlog, now has 10.5 million subscribers. "It's so important to stay close to the consumer and go where they're going," McKnight says. "We always had pride in our consumer insights."
One place its audience was going: online to watch unboxing videos. That led to last year's creation of Barbie Color Reveal, named Doll of the Year by not-for-profit trade group The Toy Association. The doll comes in a tube-like package so that the recipient doesn't know which model she's going to get. The doll itself is coated in paint that the child can easily remove to reveal the Barbie underneath; the tube also includes "mystery packs" of accessories and clothes for the toy.
The Barbie audience—kids and the adults who buy toys for them—is also becoming more environmentally and socially aware, McKnight says. This, along with Mattel's goal of using 100 percent recycled, recyclable or bio-based plastics for all its products and packaging by 2030, gave rise to Barbie Loves the Ocean. Released in June, the collection includes dolls made with recycled plastic retrieved from ocean-bound waterways and accessories made from more than 90 percent recycled plastic. In a related vlog post on YouTube, Barbie and her friends discussed eco-friendly changes viewers can make, and in partnership with 4ocean, the brand has introduced a limited-edition beaded bracelet; for every bracelet sold, 4ocean will pull one pound of plastic from the waterways. Barbie Loves the Ocean coincided with a new brand campaign, The Future of Pink Is Green.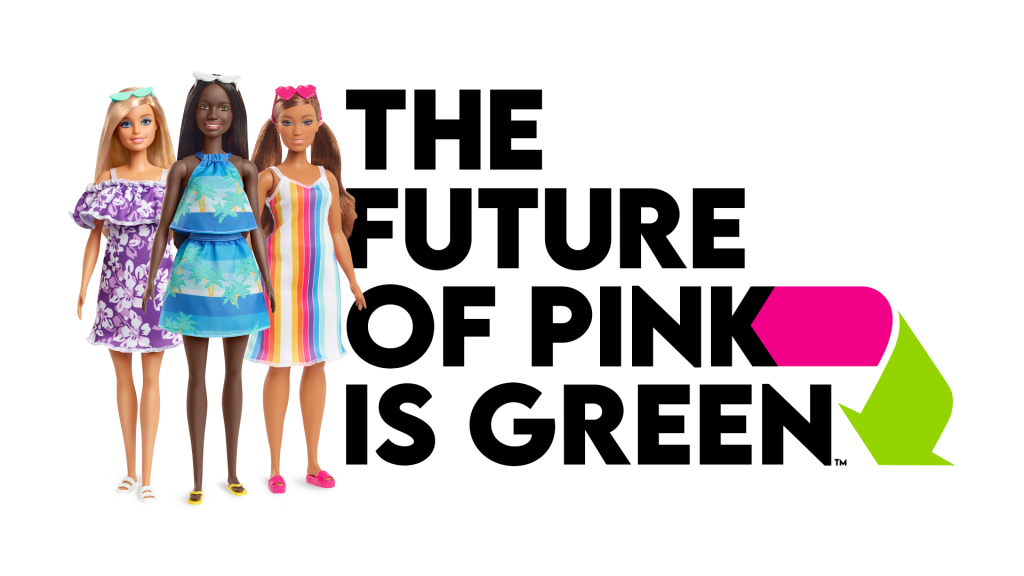 Accelerating the Trajectory
"Barbie is bigger than a doll. She's a platform," McKnight says. "We have over the past five or six years been evolving Barbie to be more relevant, to encourage female empowerment." The brand's Imagine the Possibilities campaign, launched in 2015, emphasized this with a series of ads showing girls performing adult jobs: lecturing a college class as a professor, tending to pets as a veterinarian, coaching a men's soccer team. Parents who hesitated to buy Barbie dolls over concerns about the unrealistic body proportions and emphasis on appearance now saw how the dolls actually encouraged girls to consider aiming beyond the roles of princess, model or pop star.
COVID-19 didn't hamper the brand's evolution. "The pandemic, if anything, accelerated our plans," McKnight says. "Families were really leaning into evergreen brands, brands they played with themselves. As kids spent more time at home, parents needed toys that they trusted and offered a lot of value."
The brand adjusted its social messaging to reflect the pandemic. "When the world went into lockdown, so did Barbie. When she did go outside, she wore a mask," McKnight says. "Her YouTube vlog talked about this new normal—how Barbie was feeling, how she was missing her friends." The brand also partnered with YouTube channel 5-Minute Crafts to create activities, such as ways to update the Barbie DreamHouse, to help keep kids entertained at home.
Continuing the theme of Barbie as platform, in May 2020 the brand created #ThankYouHeroes, a collection of essential-worker dolls, such as doctors, firefighters, teachers and farmers. (Given that Barbie has had some 200 careers to date, finding dolls to include in the line wasn't difficult.) For a limited time, with each purchase of a doll from the collection, Mattel donated a doll to the First Responders Children's Foundation.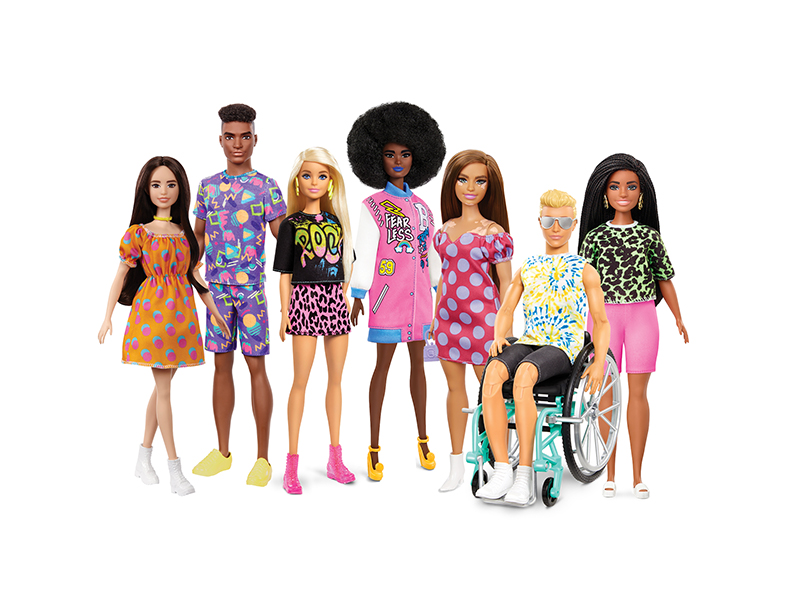 Beyond the pandemic, Barbie also responded to the growing awareness of racism and Black Lives Matter by ensuring that at least 50 percent of its Barbie Role Models—inspiring women for whom it has created look-alike dolls—would be women of color, including Black and indigenous women. And it received praise for a vlog episode in which Barbie and her Black friend Nikki discussed racism.
"Everything we do is very thoughtful. We work with an internal advisory group, external advisers, cultural consultants, and we listen to our consumers closely. We felt we had credibility in this space and were coming from a place of authenticity," McKnight says, noting that Barbie offers dolls in more than 35 skin tones and nine body types, as well as dolls with disabilities. "We felt we needed to take a stand and bring this conversation to children in a kid-appropriate way that parents could also build upon."
This thoughtfulness and emphasis on relevancy, McKnight contends, is why Barbie is still thriving. "I'm really amazed at the strength of this property and the staying power of Barbie. The average life cycle of a toy is three to five years. That we've inspired three generations of girls is amazing," she says. "The current team—it's a big team—is setting up this brand for another 60 years. What I do love is we celebrate the wins but always think about what's next and firsts for the brands. There's this continual-improvement mindset. We're going to leave the brand better than we found it."