August Top 10: Our Most Popular B2B and Martech Stories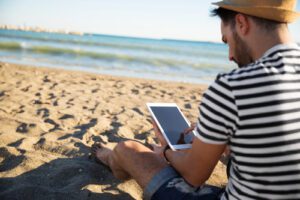 It's almost Labor Day—are you caught up on your summer reading? Here's our top 10 most popular B2B and martech stories for August.
Sales and Marketing Pros Need Stronger Relationships: Report
B2B sales and marketing teams need to focus on building —and measuring— the strength of their relationships in target accounts, according to a new report.
Customer Experience Needs to Exceed Expectations: Gartner
Over 80 percent of brands say their success will soon be mostly or entirely dependent on customer experiences (CX), but less than half have a strategy in place to explain why CX drives their ROI, according to a new report from Gartner.
How CMOs Can Comply With California's New Privacy Law
Clearly inspired by GDPR, the California Consumer Privacy Act (CCPA) of 2018 will require you to manage the personal data of a significant portion of Americans in a whole new way.
Break Down the Walls Between B2B Sales and Marketing
B2B sales and marketing teams often spend negative time and energy working towards their own internal goals, rather than working together to meet the customers' needs, notes Jim McKinley, a features speaker at Connect to Convert Oct. 3-5 in Boston.
Google Analytics: You're Probably Doing It Wrong
Here are the five steps to creating a successful Google Analytics implementation.
Why Brands Need to Shift Their Focus to Defining Moments
Many brands today to focus on what they call micro-moments—meaningful points of customer contact. But to really get ahead of the competition, consider targeting defining moments.
When Personalization Backfires—And What to Do About It
Personalization lives squarely in the "Goldilocks Zone"—which is to say that it can be too hot or too cold, instead of just right. It's easy to be overly distant or overly familiar. So how do you get it "just right?"
The Psychology of Sales and Marketing Alignment
Recent findings in group psychology show us that we can turn the chasm between sales and marketing into fuel for growth.
Voice-Activated Technology Goes Mainstream: Are You Ready?
A new study from NPR and Edison Research revealed numerous opportunities for marketers in voice-activated technology.
Walmart Makes a B2B Ecommerce Play in India
B2B might not be the first thing that comes to mind when one thinks of Walmart, but the mega retailer is making a major B2B play in India.