B2B Content Marketing Success Improves: Survey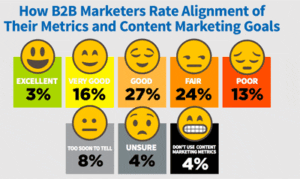 This is impressive, especially considering that over half the respondents (53 percent) said a small (sometimes one person) team serves the content marketing needs of the organization. Only 26 percent have a centralized team working on content for the entire organization; four percent said each department/brand has a content marketing team, and 13 percent said their organization had a mix of both approaches.
The survey—"B2B Content Marketing 2018: Benchmarks, Budgets and Trends, North America," conducted by Content Marketing Institute and MarketingProfs, and sponsored by Brightcove—showed that content creation was the most likely content marketing function to be outsourced, with 47 percent saying they hired outside writers, designers and video producers.
The top factors leading to improved content marketing this year included higher quality content (78 percent), improved content strategies (72 percent), better targeting and distribution (50 percent) and content being considered a higher priority (49 percent).
Over two-thirds of respondents said they had a content marketing strategy in place, but only 37 percent said it was documented; 19 percent plan to get a strategy in place over the next 12 months. For the six percent that did not plan to implement a strategy, the biggest hurdles were having a team too small for the task (67 percent) or a lack of time (44 percent).
Social media posts were cited as the most popular type of content being produced (94 percent), followed by case studies (73 percent), videos (72 percent), ebooks/whitepapers (71 percent) and infographics (65 percent).
Email continues to be a valuable channel for B2B marketers, with 93 percent of respondents citing it as the best way to distribute content. Social media was a close second at 92 percent, followed by blogs (79 percent), in-person events (56 percent) and webinars/virtual events (55 percent).
Attribution of content marketing ROI appears to be a grey area in some organizations: Only 35 percent of respondents said they were measuring the ROI of these initiatives. Thirty-eight percent of respondents expect their content marketing budgets to increase over the next 12 months.
The survey of 2,190 marketers was conducted in June/July 2017.
Related Articles:
Special Report: B2B Marketing Automation All-Stars
What Are the Biggest B2B Pain Points?