B2B Brands Need to Step It Up to Reach Millennial Buyers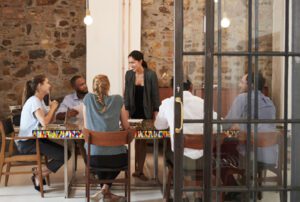 Millennial B2B buyers are more influenced by sustainability and after-sales support rather than price and quality, meaning brands need to improve their service ASAP if they want to compete.
Thirty-eight percent of respondents to this year's UPS Industrial Buying Dynamics survey were Millennials, a 10 percent increase over 2017.
"The rise of Millennials in the workplace ushers in a new era that challenges long-standing industry norms," said Brooke Yamini, VP of marketing operations at UPS. "Not only do these young, tech-savvy customers want orders delivered quickly, they are also influenced by additional services and post-sales support."
Younger buyers are less loyalty to tradition, and do their research via social media and their peers, even more than their older counterparts. Millennial respondents showed an increasing preference for buying direct from manufacturers, up almost 20 percent since 2017. Not surprisingly, distributors saw a 15 percent drop in purchase share during the same period to 38 percent, while manufacturers and online marketplaces grew 10 percent and 17 percent, respectively.
---
You May Also Enjoy:
---
More Millennial buyers are also looking outside the U.S. to make B2B purchases. Millennial respondents said they order nearly half their products internationally, far more than Boomer or Gen X buyers. Respondents were also willing to pay more for faster service across borders: 26 percent expect orders in two days, and 81 percent sometimes spring for same-day delivery.
B2B buyers of all ages are increasingly looking for better post-sales support, and Millennials' need for flexibility influences this shift according to the report. An overwhelming eighty-seven percent of Millennials indicated they are likely to shift their business to vendors with better after-sales services over the next three-to-five years.
The 2019 U.S. Industrial Buying Dynamics Study was based on a survey of more than 1,500 buyers in the U.S. between 22 and 70 years of age who purchase industrial parts, products or supplies for use in 15 industries.