Amplify Uses Marketing Automation to Boost Engagement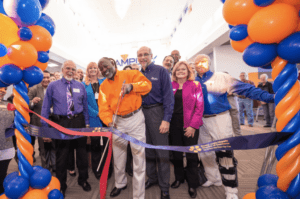 Marketing automation is helping Amplify Credit Union maximize online engagement with members and improve lead gen efforts.
In the past, Amplify had communicated with loan customers via direct mail. Deploying Salesforce Marketing Cloud enabled it to track various areas of its portfolio it previously did not have insight into, such as which members have financed their vehicles. When a dealership that has a relationship with Amplify helps a customer finance a car loan, that customer has now created a relationship with Amplify.
"Then we can market to them for other things," says Lisa Nicholas, senior vice president and chief digital officer, Amplify. "We can send them on a journey, starting with a call and welcome email to share payment information, and then serve [appropriate digital] ads to them."
Austin-based Amplify is a member owned financial cooperative, and has more than 57,000 members in Texas and over $800 million in assets. It serves small businesses and consumers with products such as wealth management services, home equity and auto loans. It was founded in 1967 as the IBM Texas Employees Credit Union and has six locations across in Austin, Cedar Park and Round Rock, TX.
The credit union is now not only able to track email activity but interactions with advertising on Facebook and other social channels as well.
Emails targeted through these initiatives have about a 56% open rate, with clickthroughs in the 40% range. Information is appended to allow for preapproved offers, such as loans they have elsewhere, and whether they are eligible for lower rates.
The goal for Amplify in working with Salesforce was to create a 360 view of data, coming in from over 80 different sources. "Now we have a good understanding of what all our ad sources are doing and how they are converting," she says.
The majority of the credit union's advertising is done online. In email, content is focused on a member's customer journey. The idea is to find content and products that might influence them; for example, someone with a home equity line of credit might be motivated to put in a pool or do landscaping.
"We want to leverage data and connect at all stages of life, to create a better experience for customers, regardless of device," she says.
Related Articles:
Special Report: Marketing Automation All-Stars
Marketing Automation Boosts Engagement for GM Nameplate