5 Strategies For Improving Customer Experience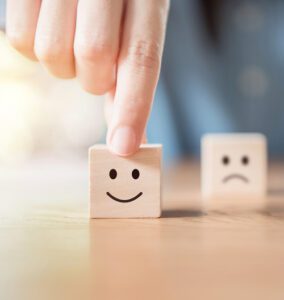 Today's marketplace offers seemingly limitless options for every product and service—from food delivery apps, sneaker brands, beauty supplies and more. As a result, the ability to deliver a personalized customer experience has surfaced as a key competitive business advantage. This shift in importance is largely a result of the continued digital transformation that has effectively redefined priorities for businesses.
In order to differentiate a business or product in a crowded marketplace, CMOs have been tasked with "reinventing" or recreating a brand's customer experience, with 45 percent of marketers leading customer experience programs at their companies. However, optimizing customer experiences in a way that appeals to audiences and establishes loyalty can be hard work and requires brands to truly understand their customers, including their behaviors, actions, emotions and motivations. Equipped with this insight, brands have the power to truly customize one-of-a-kind experiences for their customers.
How can brands uncover their customers' truths? Here's five strategies to improve the customer experience
Combine big and small data for optimal insights
In today's world, the only way to deliver a customer experience that is truly personalized is to augment your big data with insights gained from small data. While big data reveals customer patterns and trends, it lacks insight into the motivators driving these trends. That's where small data comes in.
Small data, such as a survey to get generalized findings or online quantitative research to deliver depth, provides the context needed to understand customers in their entirety. By combining these insights with big data, marketers can better predict what drives consumer behavior, as well as understand customers' specific experiences with a brand, product or service. This holistic view enables marketers to inform strategy when it comes to customer experience.
---
You May Also Enjoy:
---
Establish regular check-ins with customers
In the digital age with 24/7 instant access to information, it's not uncommon for people's opinions, preferences, views and loyalties to change. This is why the strategy around customer experience insights must be continuous and always-on.
To keep tabs on ever-changing preferences, opinions and sentiment, marketers must regularly engage with and listen to customers. By establishing a regular feedback loop and ongoing check-ins with customers, marketers are able to preempt and understand trends and changes in customer behaviors. This strategy enables marketers to better connect with audiences and create a higher quality customer experience.
Break down departmental barriers
The roles and relationship between the marketer and researcher are changing. While researchers were previously thought of as people who conducted studies in siloes, the growing importance of insights data has transformed their role. Researchers now work directly with all departments within an organization to drive transformation for the business. By sharing their expertise and knowledge, research professionals empower all departments to work with big and small data more effectively.
While the marketer and researcher differ from each other in terms of personality, style of work and methodology, together, they can work toward a common goal and learn from one another. For example, marketers tend to focus on big data and an automated approach to reach a large group of customers, while researchers, in comparison, analyze small data to better understand their audiences. When combined, these insights are invaluable.
Build a brand narrative from your customer insights
Brands are investing more and more marketing dollars to develop a unique message in an attempt to win customers. In 2018, companies were on track to spend an astonishing $207B on marketing and advertising in the US. Given the significant investment in building a brand narrative, it'll be important for marketers to get it right.
For a narrative to resonate with customers, brands must create one that takes into account the behaviors, emotions and motivations of customers. With customer truths informing brand narratives, marketers can align the brand's story with the customer's in a way that establishes an emotional connection and encourages loyalty.
Align your brand narrative across the entire organization
Brand message dilution is estimated to cost enterprise organizations $10MM or more annually in lost revenue. This happens when internal teams within a company aren't aligned on the brand narrative. A study from FocusVision and InnerView corroborated that this is often the case: 66 percent of marketing, customer experience and product management professionals believe there is a gap between what customers hear and what they experience with their company. Brands need to ensure that all departments share a consistent brand narrative, which comes from more than just an internal email from marketing to those on the frontline with customers.
Dawn Colossi is CMO of FocusVision.