5 Lessons to Create Global Brand Equity in Asian Markets
Asia remains an irresistible opportunity for luxury and mass brands alike.
And yet, as the recent Dolce & Gabbana cultural creative controversy shows—not to mention the recent trade war truce with China—marketing across the continent's many different audiences is not for the faint of heart, nor for those unwilling to create tailored solutions to each country's unique consumer attitudes, purchase drivers and shopping habits.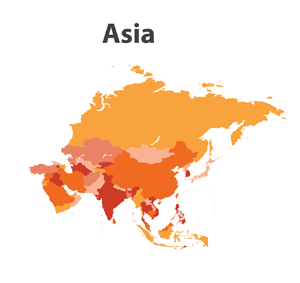 Take China. The shopping utopia of Shanghai offers a vibrant world of enthusiastic super-consumers. On Shanghai's heels are Beijing, Tianjin and Guangzhou, just to name a few, rising fast both in terms of population and consumer spending. Boston Consulting Group forecasts that 70 percent of growth in the personal luxury market over the next seven years will come from China alone and similar trends across multiple markets from travel driven by these shoppers.
And yet, while China jet-fuels the global economy with its 4 billion consumers, we marketers cannot assume that the rest of Asia follows suit when it comes to consumer engagement. Creative communications that work for one market will not necessarily be effective in another.
Working across all regions with Chanel and American Express, I've found that establishing an alignment between global brand management and regional leadership, if it is not already there, is critical to sustainable competitive performance, as the value of the brand is driven by consistency at every consumer touch point.
To succeed, brand marketers and agencies must create innovative plans that consider market diversity as well as fast-changing trends across increasingly saturated media landscapes. To that end, here are  five top lessons learned for creating global brand equity:
---
Other articles you might enjoy:
---
1. Choose influencers carefully. From the U.S. to Europe and Asia, influencers and celebrity endorsements hold enormous power in driving consumer engagement toward a brand's success. And yet, attitudes toward influencers vary significantly by local market. In China, for example, a woman's age, appearance or reputation can turn an otherwise highly followed influencer or celebrity into a serious brand liability overnight.
2. Understand local media pricing. In many countries, outsiders are often at the mercy of local media prices. Map out your channels comprehensively, balance your content investment to satisfy all platforms, and then still expect steep rates due to scale and high levels of engagement. From WeChat store fronts to QQ messaging to Weibo microblogs, shopping and consumer interaction with luxury brands through social media is growing by the day.
3. Prioritize customer service. Sophisticated consumers still crave a luxe shopping experience in real-life and personalized customer care. Make it frictionless and pleasurable for shoppers to switch between digital and real-life experiences through investments in seamless technology and in-store service training. In addition to best-in-class service at the initial point of sale, VIP events and exclusive perks are now prerequisites as well. Brands should be equipped with digital tools in-store, customizable gift-wrapping services, complimentary priority shipping, hassle-free returns, and unique and backend technology to satisfy today's demanding consumers by understanding needs through opt-in data analytics.
4. Anticipate consumer trends. Many newly maturing countries are seeing urban professionals delay marriage to pursue their careers. The result is a younger generation with money to spend on luxuries.And where are these shoppers buying luxury goods? On their phones. Mobile purchasing is quickly overtaking online shopping in many Asian markets, even among top-tier brands. Based upon holiday shopping trends, the U.S. is poised for exponential growth in mobile shopping in the coming years.
5. Work with in-country experts. You've done your research, planned your spend and accounted for market nuances. Still, you may be missing a key piece or intrinsic element that can make all the difference—or lead to a devastating mistake overnight. Strengthen your efforts by working with in-country experts to vet brand campaigns across all channels. For example, Line in Japan and Kakao in South Korea as well as WeChat and Weibo in China have their own requirements. Even with some globally managed owned platforms, no one size fits all. Regional channels will need support as well.
In the end, no matter where your consumer lives, what media they consume or which brands they desire, there will always be an opportunity to connect in a deeper way by leveraging strategic knowledge of the local market and demographic. Only this way can you ensure that your message will be supported by your regional teams and will truly resonate with unique cultural perspectives while still holding true to your brand's unique DNA.
Erica S. Kasel is chief marketing and experience officer at Jane Smith Agency.