Engaging Millennials With Agile Digital Ecosystems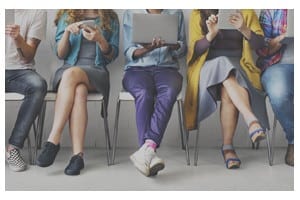 Consumer financial services companies are taking advantage of the latest innovations in marketing technology to serve their most elusive market, millennials, providing them with relevant, useful content when and where they want it—without overloading them with useless information.
The Internet of Things (IoT) has proven particularly useful in crafting brand-relevant, useful experiences. A recent report from Tata Consultancy Services illustrates that large banks are already investing heavily in IoT technologies, stating "Financial institutions have reported an average IoT budget of $117.4 million which is 0.4% of the revenue. Our study reveals that they are planning to spend $153.5 million by 2018." The report predicts that the biggest impact of IoT initiatives by 2020 will include better insight into product usage, better customer segmentation, more tailored products and services, a greater use of automation, and ultimately, enhanced customer service.
Let's look at some of these benefits:
Using content to generate new revenue streams
By monitoring how consumers use their products, IoT makes it possible for bankers to become more relevant in their millennial customers' financial lives. For example, they can now deliver content specifically personalized for a customer's banking habit via any number of vehicles. Banks can monetize content by streamlining its delivery to and from any device, channel, or application for faster time to market. This is known as Content as a Service (CaaS), and it enables companies to deliver content to any 'thing' in the Internet of Things, pull content from third parties, upsell products and services, and develop new content-driven products.
What is interesting about the CaaS approach is its ability and agility in evolving with new IoT technologies. Traditional CMS technology requires time and resource-consuming integrations with each new channel added, but CaaS gets rid of that problem completely, eliminating the need for costly integrations while making organizations more agile by allowing them to add new channels to their marketing mix with speed, efficiency, and cost savings.
Upselling services based on customer interests
Once banks understand how CaaS works, it's easy to see opportunities for how to turn content into new revenue streams. Marketers can instantly drive customer engagement and upsell services by offering relevant and engaging content across any channel. A few examples of CaaS-driven use cases from the consumer financial services sector include:
Banks that pull content from third-party websites and partners into their own websites.
Banks that guide location-based app users to local outlets and offer personalized new customer discounts via digital signage based on persona.
Marketers that deliver targeted brand or educational content in the form of text or video to smart devices.
And the list goes on and on. CaaS promises to inspire a host of new marketing strategies and IoT lines of business that capitalize on consumer behavior and location to deliver completely connected end-to-end customer experiences and keep banking brands top of mind.
Delivering personalized content to customers on site
Beacons are wireless sensors that can be connected to the Internet. This IoT device can be used by banks in a number of new, innovative ways to deliver content. For example, let's say you want your customers to know about a new mortgage program. Yesterday's customer might want a brochure or to talk to a representative. But chances are your millennial customer wants to scan a QR code, or go to a URL, or send an email. One way to leverage the IoT for this audience is to put a beacon on a sign so customers can download information. If that beacon knows the user already has a checking account, the banking application can autofill data from the customer account within a mortgage application, saving them time and hassle.
Future-proofing with Content as a Service
The IoT — whether services or devices — requires a continuous stream of fresh content in order to connect with customers. But this proliferation of channels and content can wreak havoc on marketing organizations that lack the necessary tools to support it. That's why the days of formatting content and pushing it to each individual channel are quickly disappearing. What's needed is a more agile method of content delivery, one that delivers content wherever it is needed—dynamically. Traditional content management systems for the most part simply aren't up to the task, but Content as a Service platforms were built specifically for this purpose.
One thing is clear: Content as a Service is a disrupting trend in the content management space and is poised to benefit the consumer financial services industry. That's because CaaS gives marketers the ability to deliver content to and from any IoT channel—wearables, smart home devices, digital signage, etc.—and present it instantly in the optimized format. Because of this flexibility, it has become the critical lynchpin in building and optimizing agile digital ecosystems.
Heidi Unruh is the vice president of marketing, North America, for e-Spirit Inc.
Related Articles:
Communicating With Millennials: Why Messaging Apps Matter
Millennials Prefer Texting: Survey