4 Tips for Multi-Device Measurement
By Bill Muller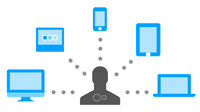 Linking the activity and marketing touch points of users across multiple devices so their entire journey can be tracked and analyzed remains a key challenge for marketers. A recent study conducted by Visual IQ and The CMO Club confirmed this: mobile commerce/mobile advertising is the top priority for marketers in the next 12 months, but CMOs struggle to understand how different devices contribute to an overall marketing strategy. Compounding the problem is not only a lack of understanding about each device, but also how those devices work in concert with one another, and with other channels. In fact, the study also found that marketers are less than satisfied with their ability to assess the impact of one channel's performance on another, and generally have no way of knowing how other channels like email or search impact mobile (and vice versa).
Here's four tips for making the most out of measurement in a multidevice world:
1.  Ditch the last click
For years, "last-click" measurement was the de facto yard stick for measuring marketing success. But that has changed significantly in the past five years. An increase in the number of channels used by brands—and the number of marketing "touches" experienced by consumers—has led nearly everyone to conclude that last click simply isn't accurate, since a single channel can rarely be credited for 100% of a conversion. Nor does this methodology provide any insight into which channels and messages did the best job of engaging the customer. In the online retail sector, for example, many consumers use their mobile phones to research products, locate a store, and find coupons and deals before making a purchase on their tablet or PC. Based on the last-click methodology, none of the mobile touch points would get any credit for the eventual purchase. Despite such flaws, close to 50% of marketers surveyed still use last-click measurement.
2.  Normalize key performance indicators (KPIs) across channels
Consumers are jumping from one channel to another and marketers are following them. However, their KPIs often vary dramatically from channel to channel. To fully understand the impact of mobile, marketers must stop managing and measuring channels in silos, and instead define a common set of KPIs across all their channels, as well as devise methodologies for converting disparate KPIs to one or more shared KPIs. Only in this way can they achieve an apples-to-apples analysis of how every channel, campaign, and tactic—including mobile—impacts overall performance.
3. Track the device
Prior to the explosion of mobile, marketers leveraged cookies to collect anonymous data about a desktop user's browsing behavior to identify each marketing touch point he or she experienced on the path to conversion. Cookies, however, aren't capable of tracking mobile users in the same manner, making it difficult to determine for example, whether an advertisement seen on a tablet could be linked to a conversion made on a desktop. In order to fully understand the impact of each mobile marketing effort, it's critical to be able to identify on which device (phone, tablet, PC, etc.) the stimulation or response occurred. Luckily, marketers now have access to several technologies that can enable them to track consumers across multiple devices and measure the input of each distinct touch point leading to an eventual conversion. Companies such as Tapad and Drawbridge analyze anonymous browsing data to link multiple devices to an individual user—providing marketers with the insight they need to understand how content and/or ads seen on one screen affect actions taken on the other.
4. Use advanced technologies to include data from all channels
Today, marketers receive and attempt to utilize different types of marketing performance data from many different sources: agency reports, ad server reports, marketing platforms reports, publisher reports, and more. That's a lot of different, disparate data sets to manage and understand. Fortunately, there are advanced measurement technologies available today that alleviate that headache. These tools not only help marketers collect, normalize, format and integrate data from their various channels and analyze cross channel, cross campaign, and cross tactic impact, but also seamlessly integrate with mobile ad solutions.  The result: a single view of marketing performance that shows the true effectiveness and ROI of any combination of media, whether served on a desktop, tablet, or mobile device.
Bill Muller is CMO of Visual IQ