4 Emerging Mobile Marketing Trends for CMOs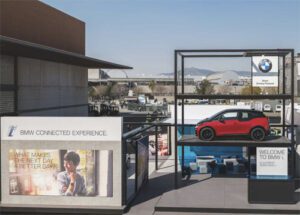 Mobile marketing and advertising are about to change dramatically thanks to the rollout of 5G networks. In fact, because of this transformative technology, there will be 25 billion global IoT connections by 2025, tripling the current number while providing marketers with richer data sets.
That statistic was just one of many intriguing revelations at the recent Mobile World Congress (MWC) in Barcelona, Spain. While the mobile era is definitely here—by the end of 2019, mobile ads will represent 72 percent of all U.S. digital ad spending—it is about to shift directions at breathtaking speed due to 5G. With that in mind, here are four emerging, mobile marketing trends CMOs should have their eye on to prepare for the next decade of business.
5G is finally upon us
This year, AT&T is rolling out 5G in around a dozen U.S. metro areas. By 2025, 5G will account for 50 percent of Americans' digital connections as consumers switch over from the internet in favor of the newer technology. And at MWC, a bevy of 5G-enabled phones debuted. There's going to be more data with 5G, but as importantly, the data should be actionable.
The 5G revolution will require an elaborate system of cell sites that will be located around shopping districts, malls, and other areas. This level of connectivity will likely make locational intelligence richer.
---
You May Also Enjoy:
---
5G will also encourage people to do more on their phones because it will be nearly seamless to download bigger files like full movies. This emerging situation probably means more ad sales for mobile marketing apps, which can also help brands better understand the customer journey. It's powerful to know that 18-to-34-year-olds on the East Coast tend to visit Dunkin, then play Angry Birds, then hang out on Instagram and Snapchat. Ultimately, 5G will make location an even more powerful signal for big-budget mobile advertisers such as Taco Bell and HotelTonight.
Automotive is becoming a mobile channel
BMW made waves at MWC by introducing gesture control and gaze recognition to its vehicles. Called Natural Interaction, here is how BMW's system works: If you are talking while driving or unable to use the voice AI system for another reason, you can use hand gestures or your gaze to turn down the music volume, open the sunroof, adjust air vents, etc.
National Interaction gives customers options and eschews the idea that voice communications are going away in the digital era. How, when, where and why we use our voice or hand gestures or gaze recognition will likely be a reflection of our personalities and habits.
Down the road a few years, the data is going to be fascinating, and it will inform marketers on what kind of ads or content to serve up in cars. Perhaps interstate drivers and riders will prefer display ads that involve hand gestures or gaze calls-to-actions ("POINT TO BUY NOW") so everyone can continue enjoying the movie, ballgame or music. Perhaps they won't mind being interrupted at certain junctures of the ride. We'll find out.
Mobile retail goes beyond the smartphone
5G will also mean tons more smart screens in public places, especially in stores. These experiences will represent the next step forward from how the smartphone changed our shopping behavior. Consider that 71 percent of store shoppers already employ their phone to navigate aisles, compare prices, read product reviews and pay for their items.
Chinese e-commerce giant Alibaba offers a glimpse into next-generation CX with its virtually-enhanced dressing rooms. You can not only virtually "try on" clothes without changing out of the ones you walked in wearing, but you can also use the touch-screen, VR mirrors to zero in on the right shirt, pant or dress size. Then, with a couple of taps on the mirror or vocal commands, you can purchase the items for home delivery. These kinds of experiences will become commonplace in the next decade and will even be tested on smartphone apps because of 5G. The blurring of offline and online retail continues.
Ethics take center stage 
It's an exciting time. Artificial intelligence-powered data is constantly making algorithms smarter which should bolster consumers' lives and businesses' bottom lines.
But brands need to build an ethical data culture in-house and with their data partners; marketers need to power the customer experience responsibly and with as much transparency as reasonably possible. The potential for backlash around AI and data is real during the 5G era.
At the same time, because of advances around the mobile CX, the role of CMO has never been more interesting. We get to steer our industry at an inflection point. With voice, gesture and gaze tech combined with actionable, AI-infused data, we are going to offer customers more relevance than ever. And, how we go about doing it will be even more important.
Brian Czarny is the svp of marketing at Factual.