3 Ways CMOs Can Bring an Enterprise Mindset to Marketing Efforts
The role of chief marketing officer might be the most misunderstood—and some might argue the most ambiguous—role of all executives in the C-suite. That's probably why its purview is in a constant state of flux. Look to one company, and its CMO is picking up functions across customer service, communications, and employee engagement. Another will involve its CMO in talent development, digital transformation and PR.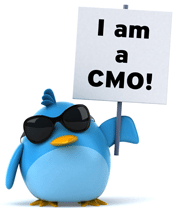 In other words, you'll often find yourself with too many fingers in too many pies. Granted, the rapid pace of change affecting every organization has transformed the whole of marketing's role. It's now a driver of culture. And that's on top of catering to the ever-changing needs of a savvy, powerful customer base.
But even with those sticky, cross-departmental fingers, the flavors rarely mix—and that's a problem. The future of marketing is integration across the entire organization. If you want to be a truly customer-centric enterprise, marketing can no longer be the sole "owner" of the customer. Every department should align around your base. Or at the very least, every department should own different facets of the customer's path to purchase.
Minding the Enterprise
Establishing this alignment often requires that you take on an enterprise mindset. You'll need to think beyond brand function and contribute across all aspects of operations. Forrester found that 48 percent of CEOs say poor alignment and collaboration will be a major hurdle for marketing over the next 12 months. What's more, these same CEOs feel like it's up to the CMO to lead the charge. Things are changing in the marketing world, and if you're still employing the same marketing strategies that you've been using for the past three years, your company won't survive.
---
You May Also Enjoy:
---
Of course, this is no small feat. For one, the relationship between CMO and CFO has not been traditionally strong. In many companies, marketing hasn't had to show financial return or justify spend based on return. Because marketing was viewed as a cost center, the CFO was most interested in the marketing department staying on budget, and that didn't exactly foster a collaborative working relationship.
This isn't to say that the relationship will be hard-won. The hypercompetitive digital economy is already drawing the roles closer together, and this close finance-marketing connection can enable better customer experiences. And the customer experience can have a significant impact on the bottom line — on average, a 10 percent improvement in the customer experience can lead to more than $1 billion in revenue for a global company.
Besides, 59 percent of CFOs now say measuring marketing ROI is a priority. So chances are good that the two roles will be working more collaboratively in the future—either to attribute marketing spend to top-line growth or plan budgets by leveraging the predictive modeling that marketing is known for.
An Enterprise State of Mind
If you're not already making moves to align the organization around the customer and collaborate across all departments, now's the time to do it. And the following are often the best places to start:
1. Lead the organizational narrative.
It's surprising how many companies struggle with what a compelling narrative might be for their business — which is unfortunate, seeing that it can play a role in everything from attracting talent and customers to securing investments and partners. As a CMO, it's your responsibility to steward the company's narrative. Think in the broadest sense of who you are as an organization. What is your company's authentic vision?
2. Ensure everyone shares the same goals.
If you're like most organizations, there are a few silos getting in the way. Agree on companywide KPIs, particularly when it comes to marketing and finance — and IT, at that. A Gartner survey found that over two-thirds of marketing teams take the lead on purchasing marketing technology, not IT. In fact, both departments spend around the same amount of revenue (around 3 percent) on technology.
3. Ditch the jargon.
Teams inevitably develop shorthand. Leave all that jargon in the department and adopt a broader business language and metrics for the boardroom. It'll become much easier to align staff and strategy behind your goals. And this greater alignment can eliminate questions of what to do when circumstances change, making the whole organization more agile and keeping everyone moving in the same direction.
The role of CMO might never cease changing. What it really comes down to is whether you're up for this hazy future in which you'll work toward aligning an entire organization around the customer—because that's really the job.
MaryLee Sachs is the co-founder of BrandPie and the CEO of the U.S. company. She has spent over 25 years in the field of marketing communications, and she has also authored two books helping CMOs unleash their full potential.