3 Things the Travel Industry Can Teach Marketers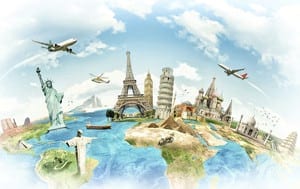 From stained, lumpy sofas in strangers' apartments to spacious brass beds in five-star hotels, travelers have seemingly infinite lodging options in today's travel market.
But as digitally based options like Airbnb and online travel agencies rise in popularity, where do more traditional options, like hotels, find themselves in the market? Here's how the popularity of each falls among different demographics and what that means for marketers in all industries.
The State of the Travel Nation
The models of Airbnb, direct hotel chains, and online travel agents differ, so it's impossible to do an apples-to-apples comparison.
Airbnb sells rooms posted by hosts. Airbnb doesn't own any of its offered units, yet it makes a 6 to 15% commission by charging hosts to list their rooms on the site. Further, the site charges travelers when they book rooms.
Direct hotel chains own hotels and make high margins on the rooms.
Online travel agents make a commission on every room sold but don't own the rooms. These commissions range up to 17%.
Hotels are still in the lead in terms of market share. In fact, while Airbnb has grown significantly in the last two years, its overall room nights booked (37 million nights in 2014) still pale in comparison to room nights booked at one major hotel chain — InterContinental Hotel Group (177 million nights in 2014).
Go Where the Growth Is
Online travel agents have grown gross bookings with major acquisitions (Expedia through Travelocity and Orbitz; Priceline through Booking.com and Kayak). In the third quarter of 2014, Priceline sold 95 million room nights. In response to this competition, Airbnb launched distribution partnerships, including listing properties on TripAdvisor, Kayak, and smaller comparison engines.
These growth patterns show that the user base of Airbnb and online travel agentss is skewing younger. My company, Jumpshot, analyzed web traffic of travel sites and found stark age demographic differences:
| | | | | | | |
| --- | --- | --- | --- | --- | --- | --- |
| Age | 18-24 | 25-34 | 35-44 | 45-54 | 55-64 | 65+ |
| Booking.com | 10% | 23% | 25% | 17% | 11% | 6% |
| Airbnb.com | 8% | 11% | 23% | 26% | 19% | 10% |
| Expedia.com | 3% | 5% | 17% | 33% | 28% | 13% |
| Priceline.com | 2% | 4% | 19% | 35% | 26% | 12% |
Booking.com's customer base skews younger than the other sites'. Nineteen percent of Airbnb's visitors are under 34, compared to Expedia and Priceline at eight and six percent, respectively. The 55-plus demographic accounts for 41% of Expedia's site traffic and 38% of Priceline's site traffic, while only 29% of Airbnb users are older than 55.
Stamp This in Your Passport
Hotels aren't going anywhere, but Airbnb and online travel agent are experiencing drastic growth percentages. Their models, approaches, and growth patterns might be different, but these travel companies are clearly doing something right. Here's what marketers in any industry can learn from them:
Understand the consumer's path to purchase.
Travel companies, particularly online travel agents, understand their customers' search patterns. Today's leisure travelers use multiple mobile devices. The best travel sites create seamless experiences for users to switch from laptops to mobile phones to tablets.
For example, on a recent trip to Paris booked through Airbnb, every message I exchanged with my host was sent via email, mobile app, or text message; I was able to effortlessly communicate, regardless of the device I was using.
Expedia's Scratchpad program is also a great way for users to access their travel information across multiple devices. Scratchpad recalls your searches across any device, allowing you to search for a hotel on your phone, read traveler reviews on your laptop, and book a room on your tablet — all without entering search details to find your hotel each time
Regardless of industry, knowledge of the following is required to inform your marketing strategy: a circuitous path to purchase (as described above) and the investments needed to make a multi-device strategy a reality.
Build your brand, and the revenue will follow.
Today's consumers seek companies they have relationships with, so building rapport with them is vital. Whether through advertising, the mobile experience, or follow-up surveys, brand interaction is key to establishing trusting and helpful relationships.
Airbnb connects with target customers through the growing desire for meaningful, authentic experiences. In the company's "Never a Stranger" TV campaign, Airbnb portrays itself as a way for customers to become part of the community.
With consumers conducting up to 38 site visits before making purchases, brand equity could be the difference between a website being just another checkmark on the list or being the hot spot for travelers to book rooms. 
Follow the influence.
Customers search for the most influential, credible sources to get their information —that's where marketers should be. Meta-search sites like Kayak, trivago, and TripAdvisor give consumers peace of mind that they're getting highly rated products at the best prices. Marketers need to be sure their products are available for consumers searching those sites.
Social media houses the bulk of influence for many brands. Facebook, Pinterest, Twitter, Instagram, and Snapchat are more than just platforms consumers hang out on; they're also indicators of how consumers interact with their own networks. Potential customers tend to ignore recurring promotional emails, but they're often open to hearing companies' ads if they're valuable or entertaining.
Of the travel options mentioned, we found Airbnb relies most heavily on its Facebook integration. Customers can sign in to Airbnb via Facebook, and hosts tend to promote their listings through this platform as well. These are valuable offerings for customers; in return, they use the platform to engage with the company.
Travelers have the world at their fingertips in this digital era, and it remains to be seen which of these options — Airbnb, hotels, or OTAs — will surge ahead in the long run. The industry is currently enamored with the growth of Airbnb and OTAs, however, and marketers would be wise to apply the successes of these high-growth companies to their customer engagement strategies.
Deren Baker is the CEO of Jumpshot.