2012 PRO Award Finalist: Neverstop for Uniqlo
Japanese clothing maker Uniqlo Co. had wide adoption overseas, but little brand identity in the U.S. with just a single boutique in SoHo, New York. For the opening of its new store on Fifth Avenue in Herald Square (New York), as well as to increase brand awareness and adoption in the U.S. market, Uniqlo hired Neverstop to execute six mobile boutiques with a two-tiered strategy in New York City during summer and fall 2011.
The Uniqlo Cubes, designed by HWKN and produced by Neverstop, let consumers purchase one of four key product categories, (Heat Tech, Ultra Light Down, Cashmere or UT—Uniqlo T-Shirt Collaborations). At night, they functioned as out-of-home media to build awareness.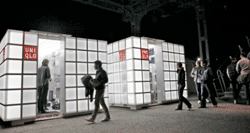 The first phase consisted of the launch of the first two Uniqlo Cubes at the opening of the Uniqlo -sponsored High Line Roller Rink, where the Cubes remained through the end of September.
In the second phase, the four remaining Cubes toured New York, with placement at festivals, street fairs and other events throughout the city, including the Hester Street Fair, Grand Central Fall Festival, Central Park Summerfest, Time Out New York Dumbo Arts Festival in Brooklyn, New Yorker Festival, New York City Wine & Food Festival and many more.
Cube locations and activities for the day were tweeted and reported on Uniqlo's Facebook page. In addition a microsite was developed to display exact locations of the pop-up cubes throughout the city. Through photo and location app Instagram, as well as Foursquare, photos of the Cubes spread virally.
The campaign resulted in high impact, timely articles in local New York press and national fashion and trendsetting blogs. The project increased brand awareness, and generated buzz for the store openings by generating over 1 billion media impressions.