2012 PRO Award Finalist: MSL New York for Procter & Gamble
The more than 50 million Americans who suffer from frequent heartburn are flooded with treatment options and confusing messages. Procter & Gamble brand Prilosec OTC needed a way to stand out from other heartburn medicines and start a fresh conversation that would draw consumers in.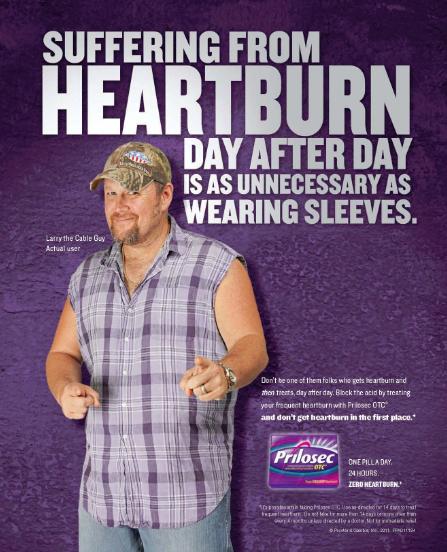 The PR team, MSL New York, developed a national program called "A Better Way to Tailgate," that drove football fans from across the U.S. to enter an online contest to prove why they are a "parking lot pro," or the best tailgater. The contest was judged by Larry the Cable Guy, who also supplied his own tailgate tips on the website supported with Prilosec OTC messaging.
The contest called for football fans to submit photos and recipes to show how they are parking lot pros. Winners were chosen by Larry the Cable Guy in the categories of "Best Tailgate Set Up," "Best Recipe," and "Best Team Spirit." The winners received an all-expenses-paid trip to Indianapolis for the Super Bowl with a guest, two tickets to the game, tailgating gear, a cash prize of $1,000 and a meet-and-greet with Larry the Cable Guy.
The online contest was supported by customized local consumer events held in NFL markets, where consumers could meet Larry the Cable Guy at a branded tailgate before watching their favorite team. During the events, Larry would joke about being a frequent heartburn sufferer, for which he takes Prilosec OTC, and urge consumers to sign up for the contest. At each event, pharmacy students handed out product samples and educated consumers about how to manage frequent heartburn. Consumers could also register online for free sample packs.
TV, digital, in-store advertising and a pop-up tailgate comedy show in Times Square featured Larry. The team also negotiated a third-party sponsorship with CBS Radio's TailgateFan.com, "the new Facebook for tailgating," which published branded content integrated into a dedicated contest page.
Custom tailgate comedy events were held from November 2011 through February 2012. Sixty 60 interviews were coordinated with Larry the Cable Guy in one day, surpassing goal by 300%.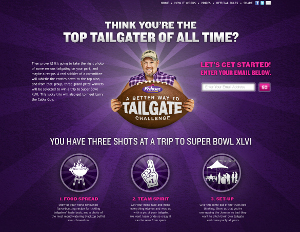 Two press releases, an SMT/RMT, mat release and local market radio promotions were used to publicize the program. Signature Larry the Cable Guy camouflage hats were distributed with Prilosec OTC branding, creating a branded presence throughout each NFL stadium. A press conference was held – including an indoor tailgate complete with a pig roast – in the JW Marriott Hotel Media Center at Super Bowl XLVI on February 1, 2012 where Larry the Cable Guy announced the three grand prize winners.
The promotion connected 300,000 people with a powerful, personal brand experience online and at live events. Eight hundred stories were produced and 260 products were samples. Roughly 100,000 people visited the contest site, surpassing entry goal by 233%, and more than 1 billion media impressions were generated.