2012 PRO Award Finalist: Agent X for Symantec
Symantec sought to position Norton as the brand that understands and provides solutions for cybercrime and demonstrates that cybercrime is real and happens to all of us. The campaign was timed around the launch of the new Norton 360 product, as well as its Consumer Cybercrime Index.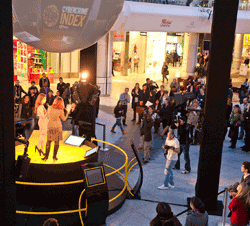 Agent X developed a live event at Grand Central Terminal in New York City and Westfield Shopping Centre in London for a total of 28 event days to support a global retail project launch, generate media coverage and educate the general market about the updated version of Norton's flagship product. A digital display was crucial to showcase the technology across its global market.
To develop a digital experience in a non-digital space, a visual and audio exhibit was designed focusing on sensory stimuli. A 360 HD projection orb was elevated 25 feet over viewers' heads to give the impression that 'big brother' was watching. The orb played a series of videos and messages about the threats of cybercrime as well as broadcasting daily content from the Cybercrime Index website.
To increase exposure and engagement, touch-screen kiosks were placed into the physical exhibit.
The device was also set up to capture and project live video feed, while hidden audio played sound bites. As consumers passed by, their images were projected on the orb with copywriting such as "Your identity is at risk! Right now!"
Roughly 2.2 million consumers passed by the displays, while 40,000 one-on-one engagements with brand ambassadors were tallied. More than 320,000 hours of viewer time was logged on the new Cybercrime Index site from February to May, 2011. More than 100,000 social media impressions were tracked, including 1,294 tweets, 357 Facebook likes and 85 comments. The events were covered on CNN.com, Wired, PC Magazine, CNET, Fast Company and more.