Cottonelle Asks Consumers to "Switch" to Its Brand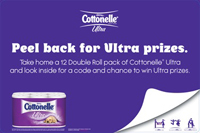 Cottonelle Ultra is layering on a major campaign to one that helped increase 2010 fourth quarter sales.
Toilet tissue, a $9 billion category, is not something people tend to spend a lot of time thinking about. In fact, marketers refer to the category as "low involvement" because many shoppers out of habit just grab a package and toss it in their cart, and since price promotions often rule there is not a lot of brand loyalty.
So a key word in this new campaign, "switch," is an effort to get people to think about the brand they are buying and try Cottonelle Ultra.
"One Little Switch" began this month with humorous messaging that equates consumers' relationships with their toilet tissue to a personal relationship that's gone stale. It works to break that old habit of "grab and go" toilet tissue buying with a message that it's ok to switch brands and here's why you should. The campaign is fully integrated, including TV, print, digital, retail materials and a 90-day online promotion.
"There's a lot of trading back and forth with brands," Cottonelle Senior Brand Manager John Stanwood said. "You'll find that consumers purchase different brands at different times during the year. It has a lot to do with the low involvement nature of the category and we find that promotions tend to impact how consumers are buying and hat offers us the opportunity to sway consumer purchase habits."
Cottonelle Ultra is a super-premium brand marketed by Kimberly-Clark and competing against Charmin and Quilted Northern, with Charmin leading the pack. The average price for Cottonelle Toilet Paper—12 pack double roll—for the last 12 weeks ending Jan. 1, 2011 was $7.02. There's a lot at stake, Stanwood said.
The campaign, which launched with branded TV spots in both the U.S. and Canada on Jan. 17 and a YouTube Video
ends May 1. FSIs dropped Jan. 23, with another round set for March. 13. A fresh flight of TV spots began running Jan. 31 announcing the start of the 90-day online promotion Feb. 1 and enticing people to go to stores to buy the product. Inside the product a code can be used at the microsite so shoppers can enter to see if they have won one of 90 "little switches" to improve their relationships, like cooking classes and dance lessons for two, Victoria Secret gift cards, a voucher for a new haircut, a Kindle, digital camera and other prizes.
In stores, on-shelf banners and floor talkers also draw attention to the packaging that includes messaging about the promotion. Print ads also started running yesterday in both the U.S. and Canada, including in Good Housekeeping, People, Redbook, House Beautiful and others.
The work is handled by multiple agencies: Mindshare for media placement, OgilvyAction for retail and shopper marketing work, Biggs Gilmore on digital and Tris3ct as the lead agency of record.
"We wanted to use the directness of the word 'switch' in a really unique way and get the message across that making one tiny little switch can make a really big difference," Paul Kuzma, chief creative officer at Tris3ct, said.
"One Little Switch" follows the 2010 fourth quarter promotion, "The Great Debate" that asked people to vote online whether they "rolled over or under" when using toilet tissue. The winner (rolling over) was announced on new packaging to draw attention to product improvements (softer and stronger).
"The brand had a very strong back half of 2010 that had a lot to do with the promotions we were running breaking through with consumers," Stanwood said. "So there is a lot of excitement with the brand coming into 2011 and a lot of positive thinking about this promotion that we currently have in the market place."