2012 PRO Award Finalist: The Marketing Arm for GameStop
The "Gears of War 3" video game, scheduled to be released in April 2011, was pushed into Q4 where it would compete against the most anticipated releases of 2011. GameStop and its agency, The Marketing Arm, had to shift consumer behavior from purchase to pre-order and break through the lineup of new releases with the Xbox 360-exclusive, third-person shooter "Gears of War 3."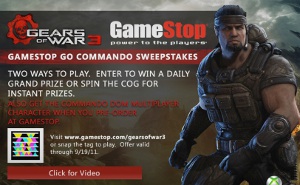 The goals included bringing first-person-shooter enthusiasts into the "Gear" franchise; engage these players earlier to drive preorders; incent them to preorder and purchase the game at GameStop; re-engage existing "Gears" enthusiasts and GameStop loyalists during the summer; raise awareness, build hype around the exclusive pre-order offer; and drive pre-orders to levels beyond previous launches.
Leveraging GameStop's relationship with Microsoft, pre-order incentives were offered. Fans were given access to a highly anticipated beta version, available only at GameStop. E3 news and other communications were used to announce the next pre-order incentive: the Commando Dom Multiplayer Character Skin.
The "Go Commando" campaign followed, led by a daily sweepstakes with a chance to win one of 4,000+ daily grand prizes such as $10,000 cash, a Polaris ATV, a 7-day Caribbean cruise and a 2012 Mitsubishi Lancer inspired by the "Gears" in-game "Lancer Assault Rifle." All entrants could spin the iconic "Cog" for a chance to win $5 GameStop gift cards, one-month Xbox LIVE Gold memberships or custom wallpapers.
Fans were invited to "National Go Commando Day" on launch night, with the promise that if at least 10,000 people registered for the event via Facebook, bumper stickers would be awarded to the first 50 people in line at 4,300 midnight events.
To get influencers to spread the message, YouTube celebrities Epic Meal Time and FPS Russia were given a series of weapons. Post-launch, GameStop partnered with Jack in the Box to create Jack's Got Game, a peel-and-reveal game. Codes were printed on 5 million cups redeemable for a chance to win instant, daily or weekly grand prizes.
The campaign was promoted in-store and online, with original content and a microsite, as well as through GameStop's PowerUp Rewards loyalty program, Xbox LIVE and social and traditional media.
The program worked. The May goal was surpassed.