Walmart Makes a B2B Ecommerce Play in India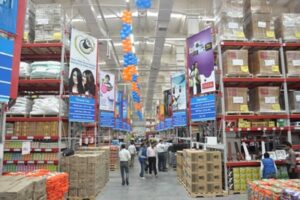 B2B might not be the first thing that comes to mind when one thinks of Walmart, but the mega retailer is making a major B2B play in India.
Business Standard reports that Walmart plans to open 50 B2B stores across the country. The company opened a new B2B fulfillment center at Lucknow in Uttar Pradesh in India last week, which sources say would help support the retailer's B2B ecommerce plans and provide support for Flipkart (Walmart has acquired a 77 percent stake in the grocery chain).
Walmart currently has 21 stores in India, and is expected to have 25 by the end of the year, with roughly three million square feet of retail and warehousing space, Business Standard notes. The moves are part of an initiative to tap into the growing business-to-business (B2B) e-commerce business in New Delhi, as Walmart India President and CEO Krish Iyer told the Hindustan Times.
---
More on B2B Ecommerce:
---
"We would launch two stores this year, eight stores next year and 10 stores a year after that," said Iyer, noting the new B2B fulfillment center was creating 1,500 direct and indirect jobs in the local area. "With this initiative we are taking another definitive step towards building an impactful distribution ecosystem by working with our partners."
Nearly half of Walmart India's revenue comes from non-stores sales, which includes B2B e-commerce, associate driven sales and call centers.
Having a strong infrastructure in place to support B2B ecommerce sales is crucial, because B2B customers don't have time to spare and expect increased efficiencies. As Shawn Arnold writes on Practical Ecommerce, "Keep in mind that B2B customers are not leisure shoppers. They are buying with purpose because their jobs demand it."