Walmart Grocery Pickup Spot Gets Plenty of Golden Globe Buzz
It may have been the Hollywood stars who captured the Golden Globe awards last night, but it was Walmart that took the prize in the category of best buzz with a new TV commercial that debuted during the program.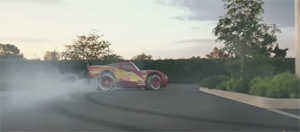 The spot debuted promoting the Walmart Grocery Pickup service featuring cameos from some of the most iconic cars Hollywood stars in their own right. The cars—from the Batmobile to the Jeep in Jurassic Park to Cinderella's carriage—were used to highlight the "magic moment" of the Grocery Pickup experience: when a Walmart associate loads the customer's trunk with groceries.
"We not only picked "famous cars" from iconic movies we knew would be instantly recognizable to our customers—and launched the campaign during one of the film industry's most popular awards shows— but we also worked with a variety of different Hollywood studios to gain access to these vehicles," Walmart CMO said.
---
Other articles you might enjoy:
---
The 90-second spot also includes Transformers' Bumblebee, Ghostbusters' Ecto-1, K.I.T.T. from Knight Rider, Scooby Doo's Mystery Machine and the DeLorean time machine from Back to the Future.
"This helped ensure the famous cars looked just like what our customers knew from the films, while demonstrating the ease, speed and convenience of the service—and that it's for everyone, regardless of what car you drive," she said.
The cross-platform marketing campaign, Walmart's biggest for Grocery Pickup, also includes social, digital and in-store elements.
Walmart piloted the service in Denver in 2013. By 2017, it had opened its 1,000th pickup location. At the time, in celebration of the milestone, Walmart gave away sweet treats and $5 promotion codes that could be used for an online Grocery Pickup order. In Seattle, where the 1,000th location opened, a promotion offered Google Home devices to the first 250 online grocery customers in the market.