Use Tech to Get Customer-Obsessed
Marketers are facing a wave of digital innovation at an unprecedented level, and it's up to marketing teams to leverage this emerging technology to create a completely customer-focused enterprise.
"Your customers are all facing a new reality, and a mobile mind-shift," says Laura Ramos, Forrester Research vp principal analyst who presented at the MarTech Conference in San Francisco on Tuesday. Today's consumers are perpetually connected, seeking relevant content and are overrun with choices online, Ramos says, which makes capturing their attention more important than ever before.
"Their attention is more valuable than their money, in some respects," Ramos says.
But she says that many organizations are still ill equipped for digital success. A recent Forrester survey showed that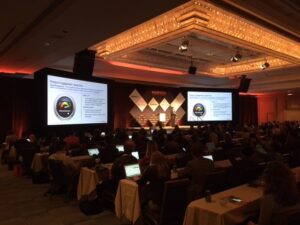 while 51% of respondents believed their marketing team was extremely successful in developing and executing digital programs, and 43% believed they were able to find and hire people with the right skill sets, just 43% believe their team has the necessary skills to be successful in digital marketing.
"Marketers are still treating digital as another line item on the media plan. Digital business is different—you can no longer bolt digital on to be successful," Ramos says.
This means businesses need to offer digitally enhanced products and services, and need to continuously exploit technology, create new sources of value for customers and increase operational agility in service to customers.
Using customer personas to better understand and craft what the customer journey will be like is key, Ramos says.
"Customer obsession is your only advantage. Those companies that win will know every detail about their customer and recognize them," she says.
For these concepts to really blossom, an organizations ceo and cio need to get on the same page and work together to create the best marketing technology stack for a company to succeed in getting customer-obsessed. This includes clarifying roles and responsibilities between marketing and IT, joint ownership of customer-centric processes, leading the digital transformation with mobile elements and leveraging data for immediate business opportunities.