Trump's #Sharpiegate Triggers Hurricane Force Winds on Social
When brands get swept up in newsworthy cultural lingo the resulting hoopla is typically a win, win for the brand.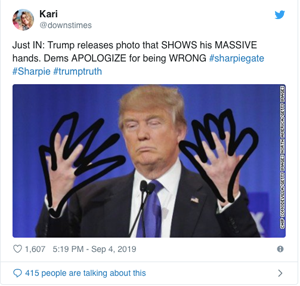 The latest happened when President Trump was in the Oval Office chatting with reporters holding up with what looked like a revised National Weather Service map. An extra cone had been drawn on the map using what looked like a black marker extending Hurricane Dorian's danger zone into Alabama. Over Labor Day Trump had tweeted that the state was likely in the hurricane's path, which was not the case, but the addition of the cone made his point.
"In addition to Florida—South Carolina, North Carolina, Georgia, and Alabama, will most likely be hit (much) harder than anticipated," Trump warned on Sunday in a Tweet.
When a reporter in the Oval office asked whether a Sharpie was used to add the black loop into the corner of Alabama, Trump replied, "I don't know, I don't know," Newsweek reported.
The media went wild, including MSNBC, the Washington Post, Newsweek, Reuters and The Tampa Bay Times. Trump was roasted by Stephen Colbert and Comedy Central host Trevor Noah who, unable to contain his laughter, asked, "Did he draw … Did he draw with a Sharpie? Mr. President, you're going to weather jail." The media was joined by untold numbers of social media users.
Newsweek reported that thousands of people tweeted using the #Sharpiegate hashtag, which began trending as people mocked the President.
At AL.com (Alabama.com) writer J.D. Crow called on followers to join the Trump Sharpie Map caption contest.
"Trump tried to bring Alabama into the Hurricane Dorian danger zone with that Sharpie! Not cool. I can't keep up with this nonsense. Game on, caption contest players," he wrote.
Many other social media users used black Sharpies, made by Newell Brands headquartered in Atlanta, GA, to update existing photos like adding Trump's face to Mount Rushmore, drawing a row of tall sticks as a mock "border wall" and adding some height above his head to make him appear taller than President Obama.