Tissot President François Thiébaud on NBA Deal, Global Reach
Editor's Note: This is the fourth edition in a series of Q&A's with leading marketers about their sports marketing initiatives.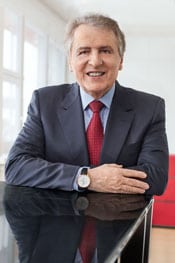 Just over two years ago, the Swiss-based, luxury watch brand founded in 1853, Tissot, had a highly touted portfolio of international sponsorship in sport. Although the brand, in the Swatch Group umbrella, was making a strong push in America, Tissot lacked a North American partner in sport
At the time, the NBA was shopping for an official timekeeping partner and had a serious need for a more efficient timing system with updated technology. It was October 2015 when Tissot finalized a multiyear deal with the NBA, the most expensive deal in company history.
With two years under their belt in the Association, Evan Vladem, a sports marketing and sponsorship expert at rEvolution, sat down with Tissot President François Thiébaud (r) to discuss the strategy of the massive deal and how it's performing compared to their international sponsorships.
VLADEM: For over 160 years, Tissot lacked a partnership with a North American sports league. Why was the National Basketball Association the perfect fit for Tissot?
THIÉBAUD: Tissot and sport have always been a great match. They share a value which is key to both – passion for performance and precision. We then entered the field of timekeeping in 1938, as we wanted to go far beyond being just a name on a poster and become a key player in the game. Since then, like any good athlete, Tissot has kept striving for better performance, dedicating itself to the search for new technologies to deliver more accurate results every time it steps into the sporting arena. That is part of what made us very attractive to the NBA. Furthermore, we have experience in timekeeping basketball as we are the Official Timekeeper for FIBA since 2008.
Basketball, one of the most popular sports in the world, is an exciting, dramatic sport, where a split-second can be the difference between winning and losing. Such a fast paced and important sport requires a timekeeper that can be relied upon to be precise and accurate, ensuring that results are correct and fair. Tissot provides vital timekeeping and scoring services to ensure highest quality results.
We are also a global brand and a global association in the world of basketball seems only fitting. Our aim is to be the key player in the sports we are involved in. We are now Official Timekeeper and Partner of many disciplines, including, basketball of course with the National Basketball Association (NBA), International Basketball Federation (FIBA) and Chinese Basketball Association (CBA); cycling, with the Tour de France and the UCI World Cycling Championships; motorsports with MotoGPTM and the FIM World Superbike Championship and rugby with the RBS 6 Nations Championship, TOP14, the European Rugby Champions and Challenge Cups and the World Championships of Ice Hockey.
VLADEM: Compared to your international deals in sport, how does the NBA deal compare as far as engagement?
THIÉBAUD: It is a partnership that allows us maximum exposure for the brand. Our logos and branding are strategically placed to maximize our visibility during the numerous matches. Considering the worldwide visibility of the NBA and their broadcast to millions of spectators and fans, it is an extraordinarily powerful means of growing the brand's recognition on a worldwide scale.
VLADEM: How much room, globally will the NBA grow?
THIÉBAUD: Tissot has a presence in over 160 countries around the world, and we know that the NBA is keen to work with brands that will help them grow their global presence. As a leader in the distribution of Swiss watches, Tissot can help take the NBA to every corner of the globe and help foster a growing appreciation for the sport of basketball.
VLADEM: The NBA is the most fashion-forward league, potentially across the globe. Some players have literally become fashion moguls. Tell me about the synergies with a luxury watch brand.
THIÉBAUD: Tissot is continuing to grow its relevance and leadership as a top selected brand by athletes around the world. To help with the association of Tissot and style, during the playoffs, Tissot will work with one of our media partners (Turner) on a "Tissot Style Watch" social series that will celebrate the great fashion seen in the NBA this season,
VLADEM: When you first came in with the NBA, the goal was exposure and visibility in America while pushing overseas. How has the partnership performed in the first couple of years? Has the goal changed or pivoted since entering?
THIÉBAUD: Although NBA is very strong in some other of our key markets such as China, our goal remains to raise awareness and market share in the United States. We are the number one Swiss Traditional watch brand in terms of volume, yet this is not yet reflected in our market share in the United States for the time being. We know that it is something that takes time but we are getting there. The NBA is a great vector of communication that is allowing us to position ourselves. This partnership fortifies our presence. We already have four boutiques in New York, the first on Fifth Avenue, the second on Wall Street, a third on Times Square and the fourth in the Westfield World Trade Center Mall.
VLADEM: An initial deal point of the TISSOT-NBA deal was the development of a TISSOT-branded timing system. Tell me about the development with TISSOT's proprietary software and interface across every NBA arena.
THIÉBAUD: The TISSOT Shot Clock is a brand-new development that features the most current display technologies. The production was quite a complex process. While the designers solely cared for a modern, sleek and transparent look of the device, the experienced engineers took their responsibility for the ruggedness and stability of the Shot Clock and its supporting structure with mounting points for camera and horn. No details have been left out. The new timing system is a real game changer. We worked hand-in-hand with the NBA to ensure that the shot clock answered the needs of all parties involved. We worked on over 50 designs before achieving the result you see in NBA arenas today. The timing was another big challenge as we began the process in September 2015 for a delivery to all NBA arenas in July 2016.
Today, we have a Multisports Operator Terminal that has been completely customized for the NBA with an interchangeable rule set providing enhancements in software design and functionality. Its cutting-edge LED technology making it nearly transparent in use, and fully transparent when turned off, for perfect visibility at any angle. It features red and amber-colored LED stripes for expiring game or shot clock time. Shot clock system cables are completely concealed in order to complete the sleek design. Its timing and scoring interface is an all-in-one system. The intuitive touch-controlled Terminal is flanked by a couple of keypad controllers suitable for performing crucial timing actions by means of rock-solid mechanical buttons, with the highest accuracy of 0.15ppm. There is a full integration to the arena, TV and all other media.
VLADEM:  You have partnerships with Cleveland, Charlotte, LA (Lakers), Miami, New York and San Antonio. Why were these markets selected?
THIÉBAUD: They are the teams that are present in some of the most important markets for us, such as New York, Los Angeles and Miami, and some where we see the most potential to grow the brand.]
VLADEM:  At the beginning of the season, you introduced theme watches for all 30 teams. Did you have to license these watches with individual teams or was this a part of the league deal?
THIÉBAUD: We received global league licensing rights for timepieces, watches, clocks, and watch accessories for all NBA teams. The licensing is a relatively simple process. The complex part of it is in terms of development, production and making beautiful timepieces that the fans will appreciate.
VLADEM:  What was the strategy for your creative, messaging ("when the clock is ticking down and it's all on the line") and the use of prominent NBA broadcaster Ernie Johnson in your current commercials? How did your messaging develop over the years?
THIÉBAUD: It stays in line with our current marketing campaign "This is your time" it's all about seizing the moment and taking your chance. It also ties in to our position as Official Timekeeper of the NBA and some of our other promotions, such as the Tissot Buzzer Beaters for example. Of course, Ernie is synonymous with the NBA and was therefore a logical choice to voice our ad.
VLADEM:  Tissot has had a longstanding deal with future Hall of Famer Tony Parker. Why is Parker the perfect brand ambassador for Tissot? Will you be bringing additional players on with Parker at the tail end of his career?
THIÉBAUD: Tony Parker is a great ambassador for the brand. He has been part of the family since 2010. He is well respected in the USA and a superstar in Europe. We often forget how much he has achieved in the Game. Parker has helped the Spurs win four NBA championships in 2003, 2005, 2007 and 2014 he has also been named FIBA EuroBasket MVP, FIBA EuroBasket Top Scorer twice and Player of the Year two times and has also been named to six NBA All-Star games, three All-NBA Second Teams, and an All-NBA Third Team. He still has a lot to offer.
VLADEM:  Before the TISSOT deal, the NBA entered a massive TV deal with Turner and ESPN. How big were these media partners for you from an activation/media standpoint?
THIÉBAUD: It was important to ensure a great visibility, on screen and to be able to communicate a constant and strong message across the United States. We also work closely with the influential media partners across the United States be that classic media or innovative TV and social media platforms such as Tissot Style Watch.
VLADEM:  On social and digital, you utilize TISSOT Buzzer Beaters from games (custom clips sent out in short order). How big is social and digital in the mix for the NBA deal?
VLADEM: Digital and social media is becoming more and more important, especially in the United States. It is a fact that is impossible to ignore and which has become an area of focus for the brand for quite some time. Furthermore, the NBA has some of the best social and digital numbers across all of sports worldwide. Tissot Buzzer Beaters offer a great and relevant platform that has generated some amazing visibility and engagement over the last season.
VLADEM:  What is your plan this postseason and into The Finals?
THIÉBAUD: The Playoffs and Finals are of course key to our marketing strategy, as the focal point of the season. Our activation consists of classical advertising on TV, Digital platforms and radio shows throughout the post season. Additionally, we have the Tissot Style Watch, which focuses on the styles of the NBA players, which is a digital programming with Facebook live, on the NBA on TNT channel. As mentioned earlier, there are also the team activations and of course National retail promotions with our key partners with the creation of special in-store promotions, sweepstakes and NBA gift-with-purchase promotion with caps for the NBA teams.
Continental Tire MLS Sponsorship Reward is Loyalty and Purchases
Hyundai CMO Dean Evans on its All-American NFL Sponsorship
Heineken USA CMO on Dos Equis "Most Interesting" College Football Playoff Deal