Three Ways to Improve Your 2015 Mobile Strategy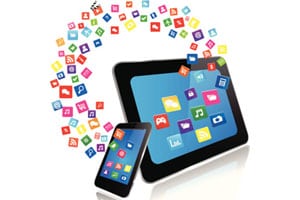 This year, U.S. adults spent more time with their tablets and smartphones than with their desktop computers or laptops. More precisely, they will have spent an estimated 2 hours and 51 minutes per day on mobile, compared to an estimated 2 hours and 12 minutes spent on desktop, according to eMarketer.
This year, mobile advertising budgets exceeded those of newspapers, magazine and radio. Mobile advertising is the fastest growing segment of the ad budget. While TV and desktop still draw the most advertising dollars, mobile is catching up fast. U.S. advertisers this year will have spent $8 billion more on mobile ad spending, but if I could make one wish for 2015, it would be that more companies would direct as much attention to their mobile marketing strategies as they do toward mobile ad budgets. Many businesses, small and large, still fail to optimize their websites for mobile or simply throw an app out there and hope it will catch on.
Here are a few things to keep in mind when your company finally gets serious about mobile marketing.
Use Data to Inform Your Mobile Strategy
It's true that we don't have cookies to rely on in the mobile world, which makes it somewhat trickier to retarget users as marketers do online. But tying a mobile ID with other sources of mobile data can open up opportunities not available to online marketers. The beauty of mobile is that there is a plethora of rich, real-time data to draw on.
The most obvious is location-based: we know where users are at a given moment and can correspondingly send them relevant messages over a variety of channels, from in-app messages to push notifications within an app. Data can also give you insights about the demographic you are targeting. Make sure you have the tools you need in place to help you analyze and act upon this data. 
It's All About Seamless
Part of your mobile marketing strategy comes in the app or mobile website design process. Mobile users are known to be extremely directed when they search and don't have much time and patience to navigate complicated menu options.
If you don't offer a simple, seamless way to access the information or offer you present, you will lose your audience. Some of the best mobile apps out there today get this. KickStarter, for example, has a nearly one-step process that enables users to contribute to campaigns, and banking apps from Chase and Bank of America allow users to easily check accounts, withdraw money and even upload a deposit on mobile with only a few clicks.
Of course the seamlessness of an app can continually be refined. Messaging app Viber, for instance, recently added interactive notifications that allow iOS 8 users to easily take actions right from within a banner, as well as to share content more easily from other apps within Viber.
And recently Starbucks even made the in store ordering process more seamless via its app, announcing a new mobile order and pay feature that will lets users place their coffee orders in advance for pick up. Now that's creative thinking.
Have a Post-Install Strategy
Getting users to download a mobile app is only the tip of the iceberg. Do you have a strategy in place for continued engagement? You've already invested dollars per user developing an app, so now take that to its logical conclusion and add features that keep them coming back – for only pennies per user.
For one, a thorough onboarding process that makes new users feel welcome and encourages them to come back to the app is a must. Segmenting them by usage – first-timers, frequent users or those that downloaded and then rarely used the app – helps you tailor messages to the right person. And then put some thought into how you can keep the conversation going with these users. Urban Outfitters, for example, offers app users push notifications to promote in-store sales in selected locations.
Think over what kind of content you want to deliver to app users and then decide on delivery methods, whether that's an in-app message, a push notification or even a News Feed card that provides users with a constant flow of updates to keep things fresh each time they open the app.
Of course, you need the customer's okay to enable such notifications. The textPlus app also does a great job by sending users who download the app a pop-up prompt that explains the benefits of push notifications and then guides them through the enabling process.
Clearly, apps have become a key component of the mobile environment in 2014, and that's likely to continue. By thinking of your app development as part of an overall mobile marketing strategy and refining accordingly, your company should be well placed in 2015 and beyond.
Mark Ghermezian is co-founder & CEO of Appboy.