State Street and Formlabs Explore the Human Side of B2B Content
B2B content doesn't have to be boring. At Connect to Convert in Boston recently, State Street and Formlabs shared their strategies for creating an engaging, human connection with content.
State Street Gets Finance to Listen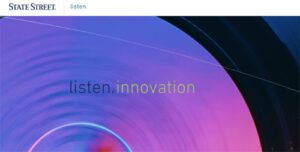 Financial services—particularly on the high-stakes scale that State Street Global Advisors operates in—isn't exactly known for its humorous or human side. With the microsite Listen, State Street aims to speak to clients in a less academic way.
The industry often gets hung up on talking about data, but not everyone in the finance game has a PhD in economics, notes Shawna Wright, global SEO and content manager for State Street. The goal of Listen was not to talk so much about what State State was doing, but who was doing it and why.
We're trying to be more human and personable, and have a sense of humor with the things that financial services impact," says Wright.
This is important, because money is actually a very emotional topic, she notes. Both on the B2C side, where people might worry about retirement or being able to send their kids to college, or on the B2B side, where they worry about being able to fund a project or new venture, emotions as well as data can help spur decisions.
Listen.statestreet.com operates as a separate editorial entity from the main State Street site, and gives the company a different way to speak with clients, to help explain topics related to finance. These could range from making new concepts like Blockchain accessible, to what the cultural customs in other countries mean for business relationships.
---
You May Also Enjoy:
---
"Clients were coming to us and saying 'You only talk to us when something goes wrong or you want to sell us something. That doesn't make us feel good,'" says Wright.
Content from the blog is also used in newsletters for both clients and employees, as well as to feed social media channels. State Street also produces numerous 100+ page reports annually that can be repurposed, but Wright says she's more interested in the outtakes from those reports.
"What are the snarky comments that didn't make it into the report? You interviewed 100 hedge fund managers or 10 IT guys? What did they say that was super compelling and didn't fit into the report?" she says. "That is the human element—it doesn't fit into academic research but it is great for Listen."
Formlabs Lends a Hand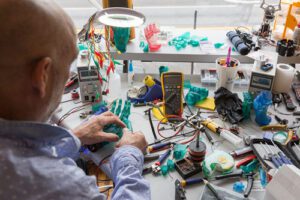 Formlabs designs and manufacturers 3D printers. When the company started, they were considered something for hobbyists or large industrial enterprises, but advances have brought the power of the technology down to the desktop level, making is accessible for all sorts of companies.
The Somerville, MA-based company has a sweet spot helping manufactures create prototypes to help test new designs, but works in a number of verticals, including medical and engineering.
To bring the company's story to life at the Consumer Electronics Show in 2017, Formlabs partnered with Lyman Connor, an engineer who was starting HandSmith.org, a project to make affordable 3D prosthetic hands.
"We wanted something that would grab press attention and be a talking point, and then be able to trickle into [other] marketing activities," says Liz Joyce, content strategist at Formlabs.
Prosthetics and 3D printing isn't a new news story, and there were already a number of compelling emotional stories on the topic. But, Connor's journey provided a way for Formlabs to humanize digital manufacturing and the production process, and showcase how he was using the company's tough resin material.
His story was translated into videos and blog posts for top of funnel digital content, and Connor came along to CES for in-person interviews, even bringing along prosthetic hands which were hooked up electronically at the show booth to illustrate their mobility.
Longer, written pieces on Connor's work was included in media kits, which industry press picked up for future stories. A gated whitepaper on his work served as a lead gen tool, and smaller bites of longer videos were used to feed social channels.
"We were able to leverage one story across multiple channels, and its still a talking point," says Joyce.